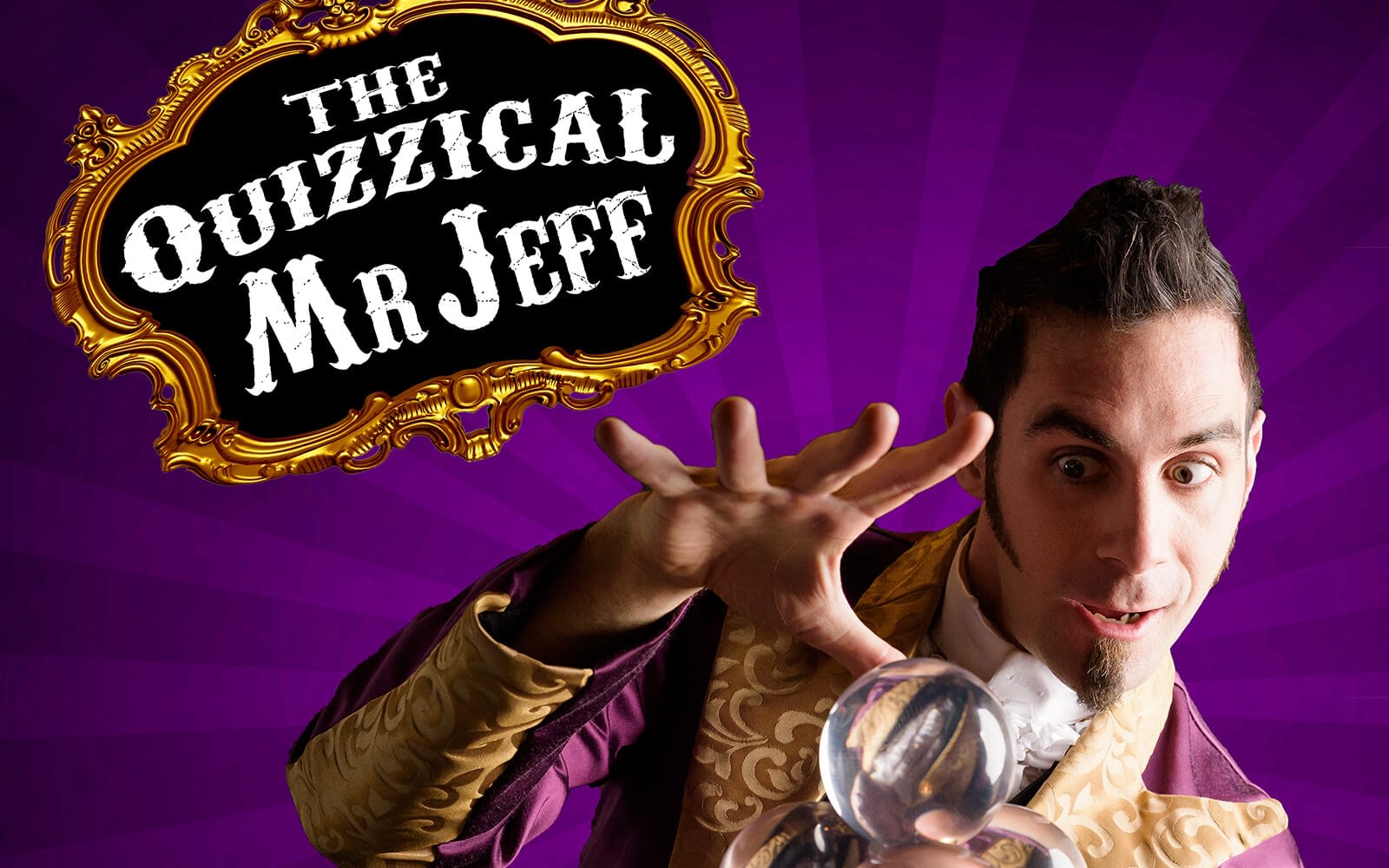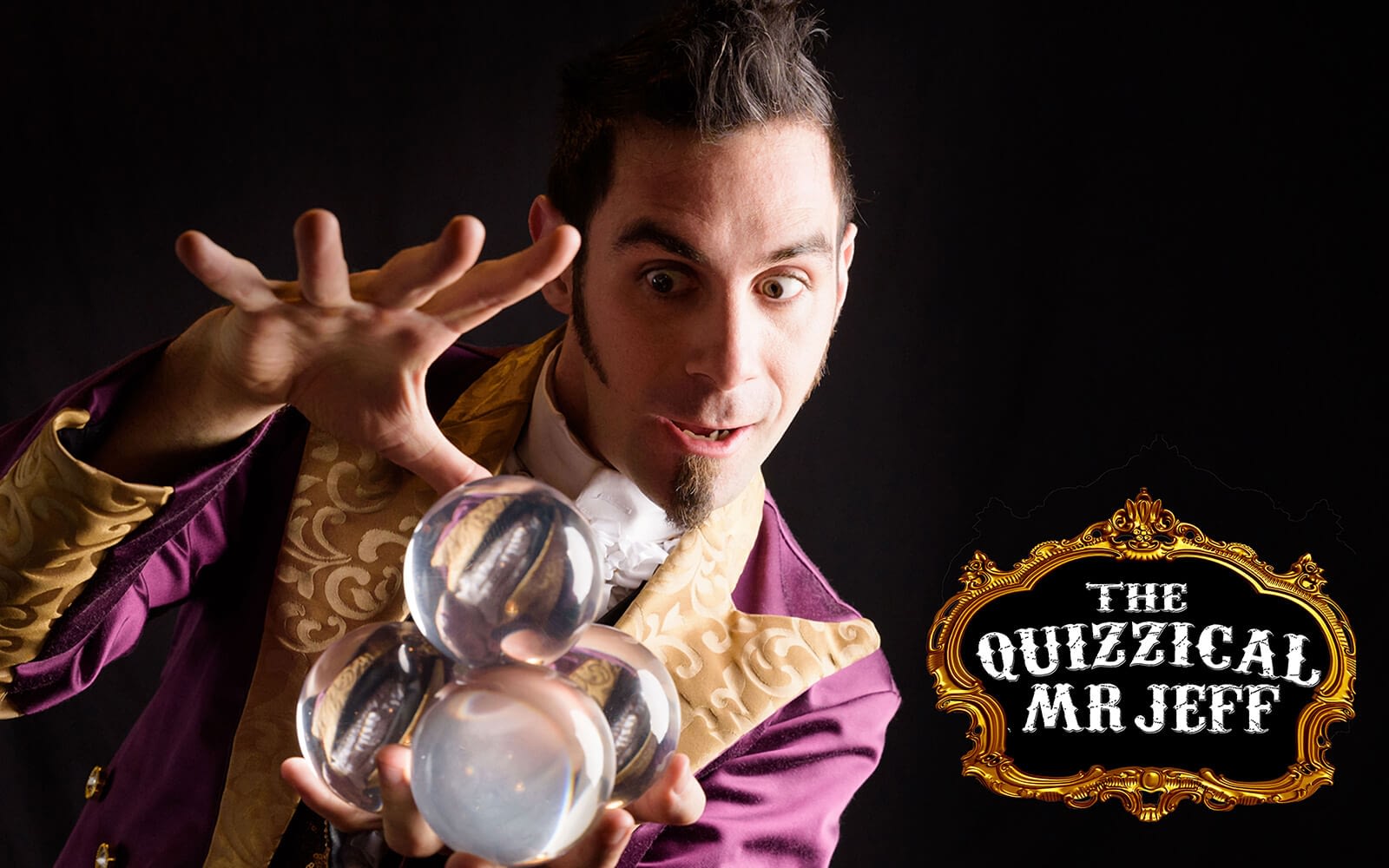 Producer:
The Quizzical Mr Jeff
Unleash your imagination with Mr Jeff's stunning fusion of circus and magic
Floating crystal balls, optical illusions, a 6 foot balloon, and a whole lot of hats… The Quizzical Mr Jeff unleashes the imagination with his unique spin on circus and magic.
Mr Jeff is an entertainment specialist renowned for his charismatic showmanship, welcoming stage presence and engaging performance style. With years of experience on international stages and in the circus ring, this work hones his skill in transporting audiences to a state of wonder and play.
In this highly visual fusion of circus and magic Jeff explores a mysterious room packed with marvels – think 'The Sorcerer's Apprentice' meets Charlie Chaplin – using novelty and circus skills to create moments of hilarity and captivating imagery. Stand-out pieces include a bottle with a will of its own, a mind-bending hoops act and a flying cane that defies gravity.
This playful fusion of circus and magic is perfect for people of all ages, guaranteed to create unforgettable memories for you and your family. Dazzling, charming and astonishing… the enchanted world of The Quizzical Mr Jeff awaits!
There were many 'laugh out loud' moments in this super fun show that is definitely great for the whole family
Eventalaide
We have two lighting options for indoor venues, a preferred lighting plan or a minimum lighting plan. The show can sit comfortably in venues with any levels of stage lighting facility.
Preferred lighting plan – 11 fresnels, 2 Profiles
Minimum lighting plan – 7 fresnels
Venue provides operator
Venue to provide PA system with audio input jack (all audio controlled via bluetooth remote from onstage)
Four set pieces onstage, including one mirror.
One tonne van for regional touring, or large car or hatchback. Air travel is possible.
Audience & Marketing Notes
The Quizzical Mr Jeff is a non-verbal, easy-watching, family-friendly production for people of all ages.
The show is delivered entirely without dialogue and is accessible to audiences from a variety of backgrounds, and the high-skill, funny and aesthetically interesting set-pieces appeal to children and adults alike.
Having played at Fringe Festivals, Melbourne Magic Festival and with ongoing cruise ship engagements, The Quizzical Mr Jeff can confidently perform to audiences both young and old and bring out the kid in everyone.
Winner - Artistic Excellent, Melbourne Magic Festival, 2019

Winner - Best Circus, Fringe World Weekly, Perth Fringe 2019

Entirely non-verbal

Circus, magic and comedy all rolled into one

Accessible for all ages - a family-friendly show that adults love as much as kids!
All ages, family friendly
End-stage required - proscenium, black box, hall
Apra Obligations:
Can be a concert if venue has an apra license - $82.50 per performace if not