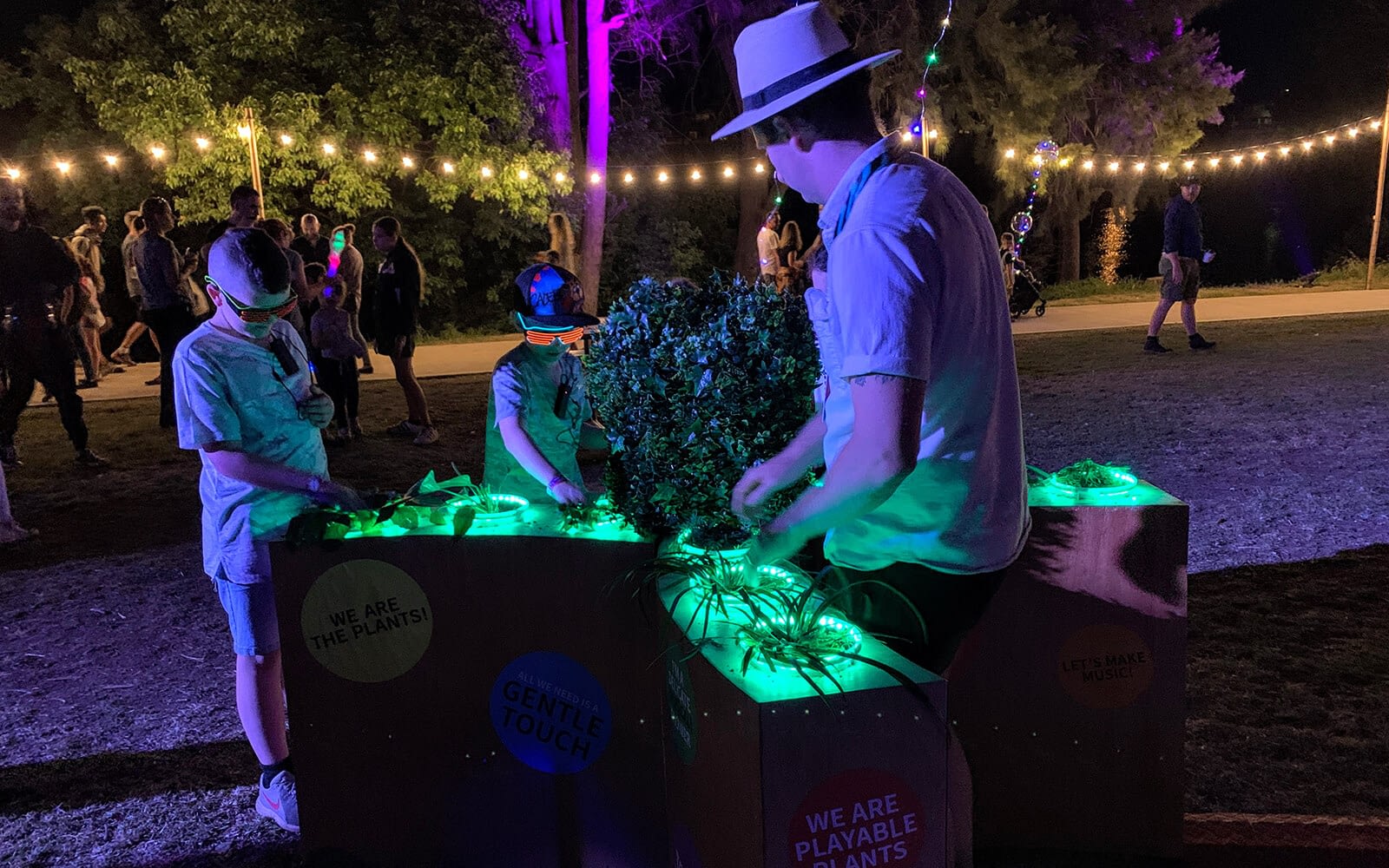 Producer:
Playable Streets
Create music collaboratively by making music with real plants!
The Plants is a site-specific musical installation that invites participants to create their own musical compositions using unique digital instruments…. Plants! As you explore The Plants you create the musical experience for yourself as well as those around you. Make music with the marigold and compose with the chrysanthemum!
This interactive installation can be presented in a variety of locations and configurations. The work can be a stand alone installation, a collaborative performance with Playable Streets' artists (musical gardeners!) and/ or a live music event (Garden Party!).
Our aim is to connect people with nature in new and novel ways using sophisticated interactive touch sensors that have been developed by the Playable Streets tech team. As your hand caresses the leaves of these plants you send a variety of signals to a computer that turns your touch into sound!
Award winning composer Cayn Borthwick has developed a musical landscape for The Plants that allows for participants with any musical ability to explore their creativity. We can also deliver a series of workshops that combine nature and technology.
Playable Streets have collaborated with Maroondah City Council for the past four years in a series of successful and dynamic projects during an exciting time of creative development for the arts in Maroondah. Their unique approach has helped brings artists and the community together in participatory installations and workshops.
Rosalie Hastwell - Team Leader Arts and Cultural Development
N/A – Playable Streets provide all sound equipment
The set can travel in a van (with approximate Internal cargo dimensions: 2.93m long, 1.545m wide, 1.33m high)
Both performers/ facilitators can travel in the van with the set. (Please note if producer Kate Perman is travelling an additional car may be required)
The set can travel by plane (this is free if travelling with Virgin or Qantas due to APRA baggage allowance)
Audience & Marketing Notes
The Plants is a fun and extremely engaging interactive installation that appeals to people of all ages and musical abilities! The Plants has featured at arts festivals, White Night style family festivals, galleries and schools. The work has been enjoyed by participants of all ages, sometimes it has been marketed specifically to youth audiences and sometimes to the general public. We also encourage marketing to and participation by persons with disabilities as The Plants is a highly accessible participatory work. This work can also be marketed directly to schools who may want to have in-school workshops leading up to the presentation of The Plants. Playable Streets' school workshops cover many STEAM learning outcomes. Playable Streets will work closely with presenters to develop a marketing strategy that engages with the local community.
The plants is a unique interactive experience that explores nature and technology in a very playful and accessible way. There are many aspects to this work that can be extrapolated for marketing purposes, ie. What is a musical instrument? How can we develop our relationship with nature? How can we communicate with computers without using a screen?

This work appeals to music enthusiasts, gardening enthusiasts, technology enthusiasts and fun enthusiasts.
Playable Streets offer a series of workshops that combine art, technology, design, music and storytelling. We can offer 'Plants and Technology' workshops in the lead up to the exhibition of the installation. These workshops mix technology and nature to get people thinking about their physical world in a whole new way.
All ages, family friendly
Various venues indoors or outdoors