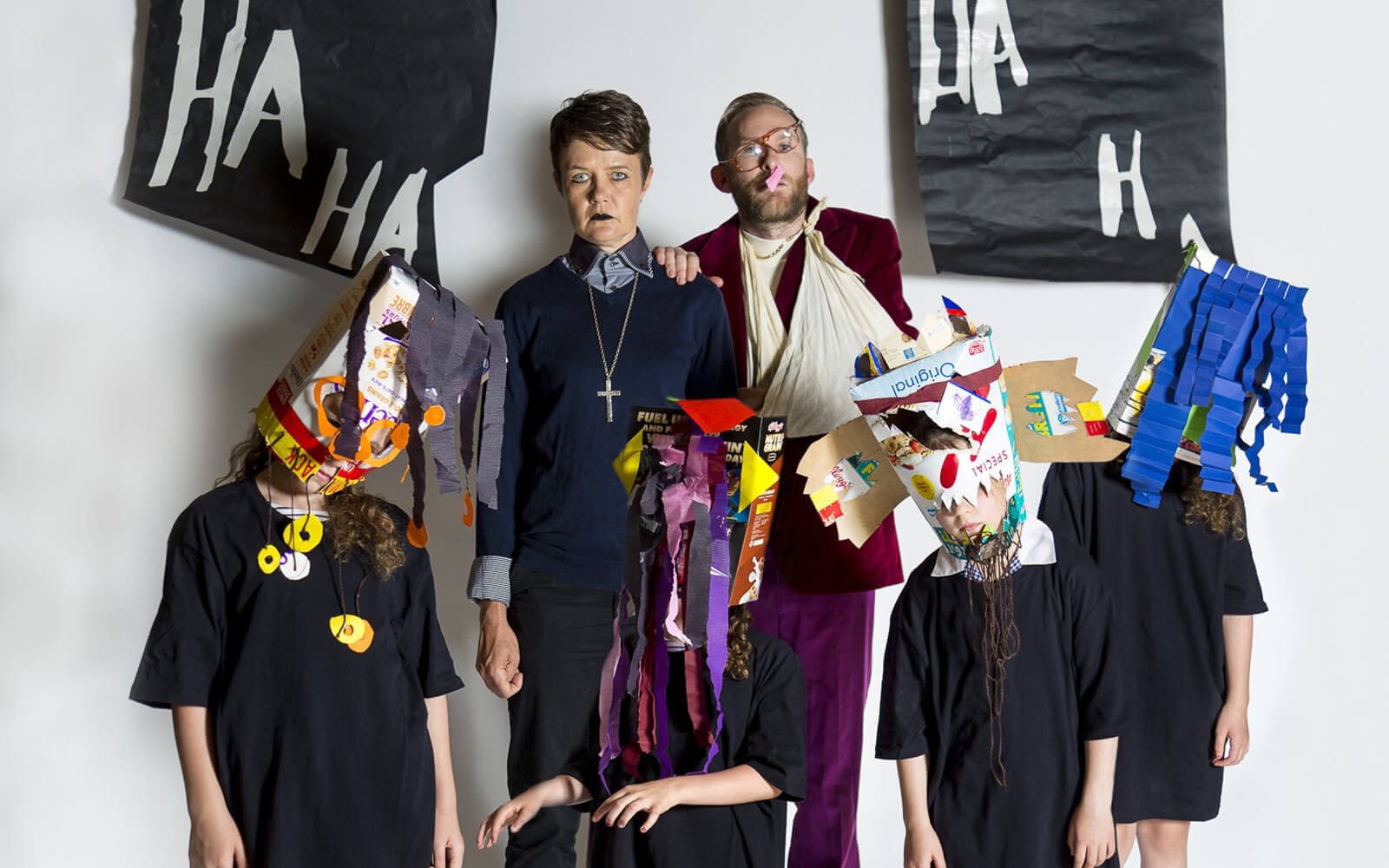 Producer:
Joseph O'Farell (JOF)
Writer:
Joseph O'farrell & Emily Tomlins
Directed By:
Sarah Austin
A horror show written by kids, for adults.
Part David Lynch thriller, part Fright Night drive-in flick, everything from the set, characters and sound has been designed by primary school students for their adult audience in this gory spectacular! Internationally acclaimed artist, JOF, has worked with 200+ primary school students across Australia and the UK to create this work.
The audience are welcome to a community variety extravaganza by Mr. T and his trusty side kick 'Secretary'… (I mean, the community liaison officer). A child virus epidemic has swept through the school leaving 90% of participants bedridden. Tricked into cursing the theatre and unleashing a succession of wild and gory misfoturnes, the audience soon find themselves in a Zombie apocalypse featuring giant inflatable monsters, talking bin that will destroy us all! .
Performed by two straight-laced adults, five demonic children and a disgruntled teen guitarist providing a live soundtrack. Do the audience have what it takes to survive?
Cameron Woodhead from The Age described THE CABIN! as an "uninhibited blend of humour and horror has broad appeal." It's equal parts hilarious and scary whilst deftly weaving a witty social commentary through the piece.
O'Farrell (JOF) has always been an intrepid soul, but perhaps not even he could have anticipated the terrors that would be unleashed in The Cabin
Cameron Woodhead, The Age
desk
10-20 x dimmer lights
Control position behind or within audience.
Good Quality P.A.
2 X Subs
Team provides the rest
The set is constructed of push – up curtain poles and weights
we require the following equipment:
Hazer
Smoke machine
There are some strobe effects
The set is flexible and would require a minimum of 2 x crew for set up and set down.
We will also require a space for rehearsal / workshops with the young performers the day before. This can be any space.
1 tonne van. Yes the set can travel by plane.
Audience & Marketing Notes
This show works with 5 local young people aged 12-15 who particpate in the show as the "Cereal Box 5," a zombie troupe of child performers. This show also works with a 15+ local young guitarists who performs live music in the show. The team conduct free workshops with the 6 performers who have a starring role in the comedy/horror show. This work is for 15+ Audience.
Since his early days in Melbourne with The Suitcase Royale – who remain one of my all-time favourite groups –, JOF has created, co-created and curated theatre and events (jofmakesart.com) that break down the artifice of theatre and find new ways to connect with audiences. He says that the question he always asks is"Who's not here?". It's not just who's not in the audience, but who's not having the experience of making the art - Anne Marie Peard, Sometimes Melbourne.

This work has broad appeal and has a strong track record of sales from it's premiere season. JOF has toured widely with the Suitcase Royale and works tirelessly with Presenters to engage communities. There is an inbuilt audience through the engagement of young local performers and it has appeal across comedy, music and horror.

The premiere season attracted press across ABC, The Age, Herald Sun, RRR, and many more online and radio outlets.

The premiere season attracted a diverse audience of 20 - 55 m & f from the surrounding suburbs.
This production is designed to tour with a core team of two performers and work with 5 young performers from the local region. The local performers are ideally between the ages of 7-14 years old and are required to attend 2 workshops in the lead up to the performance. As well as the performance day itself. The local performers are crucial to the piece but the production has been designed to be able to slot in easily. The creative team have had a long history in community engagement.

The team can also work with a local primary school to create a "horror" inspired artwork for the theatre.
Mild coarse language, horror themes