The Alphabet of Awesome Science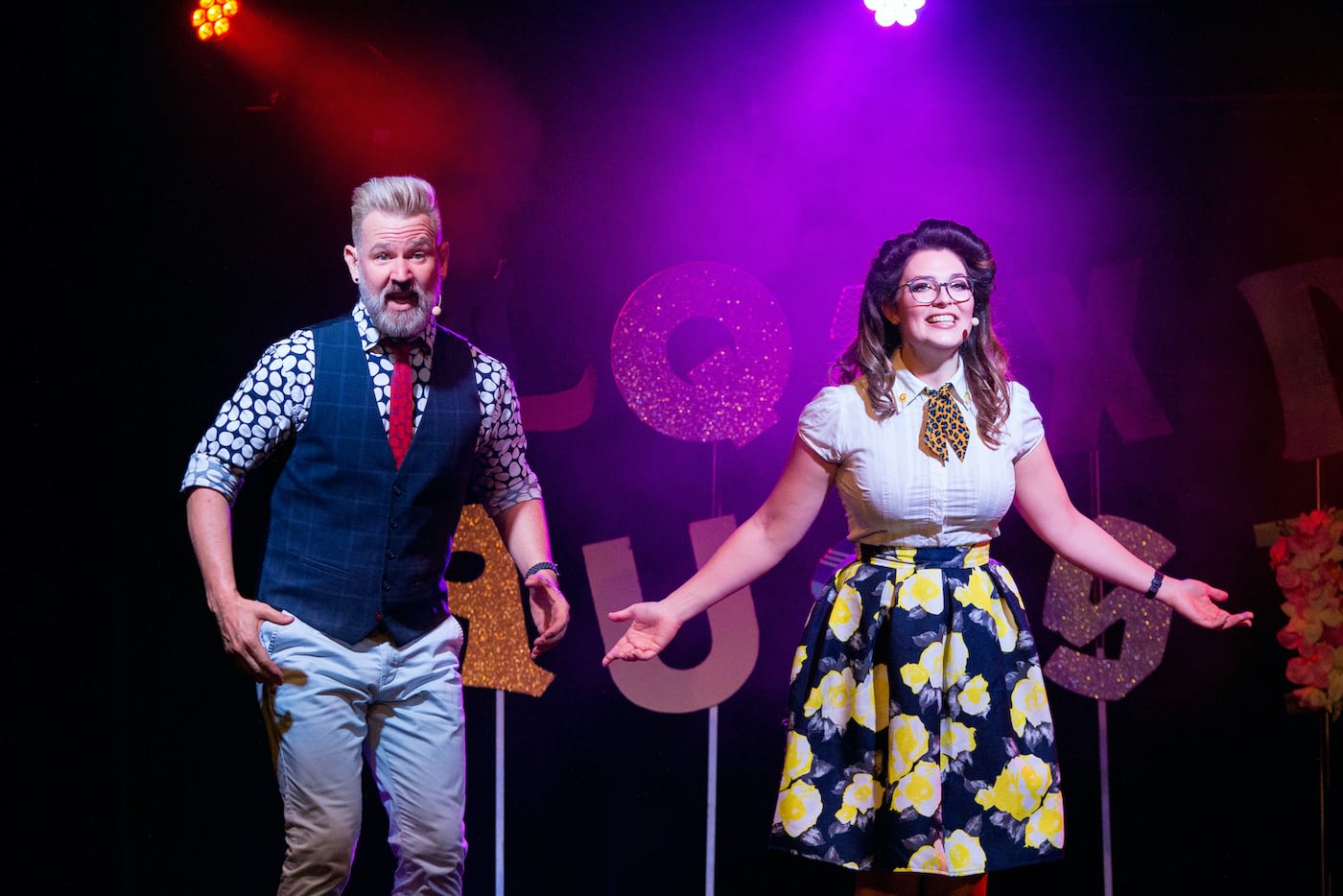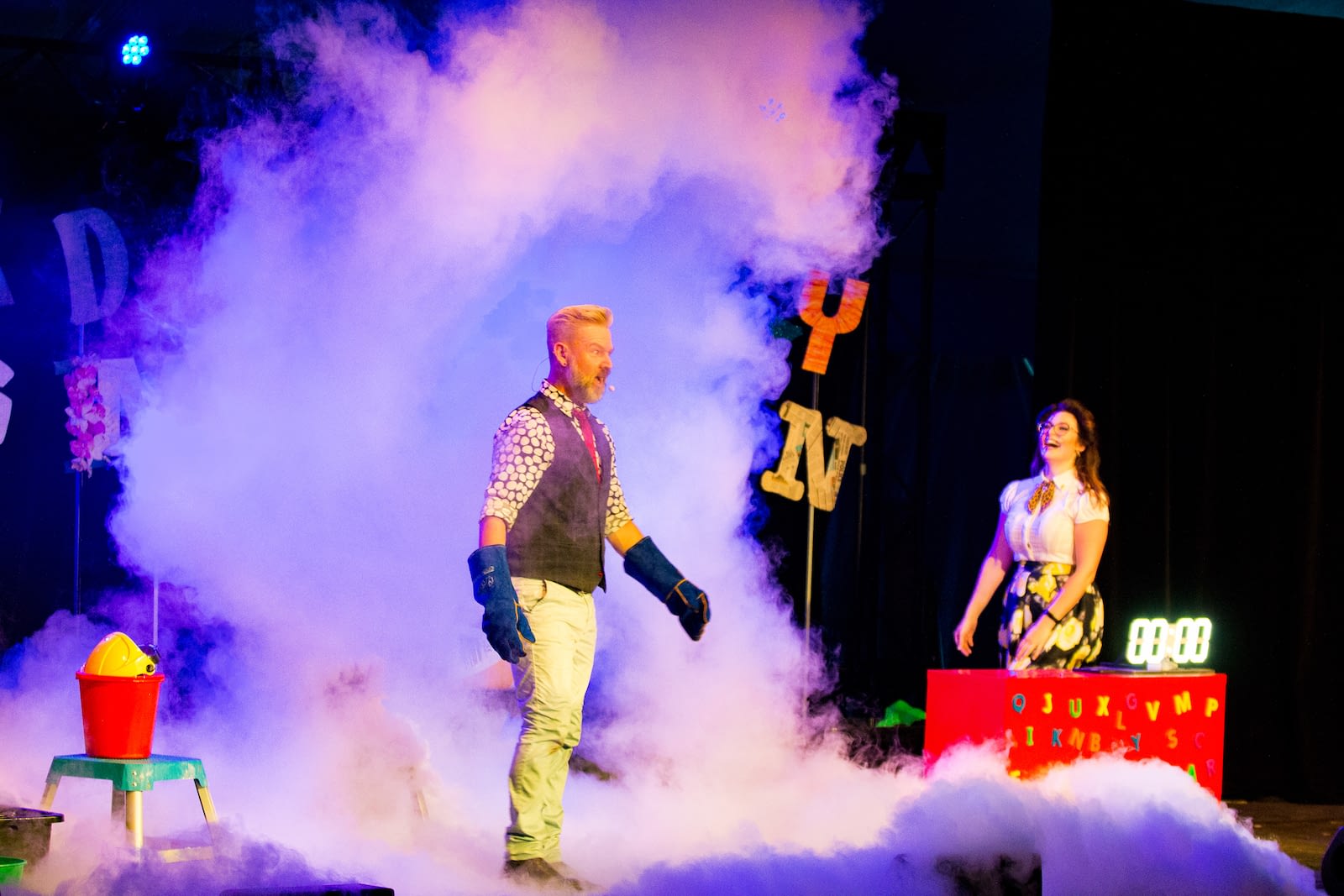 Producer:
Nicholas Clark Management
Directed By:
David Lampard
A scientific race through the alphabet – where fascinating words inspire spectacular science.
Join professors Lexi Con and Noel Edge (the Word Nerd and the Science Freak) for a thrilling, multi award-winning voyage through the alphabet – where great big chewy sesquipedalian words inspire mind-blowing scientific surprises.
Professor Lexi Con has curated a curious collection of her favourite words (one for every letter of the alphabet) with each word providing Professor Noel Edge with an inspirational jumping off point for 26 quirky scientific demonstrations – that squish and squirt, float and fly, erupt and explode. Together, this dad-joke quipping, prank-pulling pair of polished professors strut their stuff in a performance that's equal parts explosive, messy, spectacular, hilarious, fascinating and gross.
And if things weren't exciting enough, every show is completely different, with audiences determining the order in which the letters are revealed and explored. Plus, did we mention, this is a race? The dynamic duo have just 52 minutes to complete their alphabetical, scientifical countdown. That's just 2 minutes per experiment!
Will they make it in time…?
Got a kid in your family who's a little inquisitive? Then for the love of all that is scientific, take them to see this show! You'll love it just as much as they do… If I could give it six stars I would.
The Advertiser
We can generally create a series of suitable lighting states from a basic rig plus a few specials – working to the capabilities of each theatre.
At minimum we ideally require:
Open FOH wash
Multicoloured rear wash
A minimum of 3 specials (plus a paired backlight for each)
A series of lights that can chase with a white flash (ideally LED)
We use a smoke machine for one demonstration (supplied by our company)
Venue to supply:
Adequate PA system for the theatre / venue
We use QLab to play back music and sound effects
We supply:
2 x radio headset microphones
Laptop (mac)
QLab
USB audio interface
SFX are operated by our Stage Manager
The set consists of:
13 x 2m high aluminium poles (placed along the back of the stage)
1 x small red bench (placed midstage P)
1 x 2m square rubber-backed mat (placed midstage OP)
6 x black tubs (500mm x 800mm x 350mm) filled with various props
2 x small steps (moved about)
Power from a GPO (via extension cords) is required midstage OP for:
1 x kettle
Power from a GPO (via extension cords) is required midstage P for:
1 x smoke machine
1 x small LED countdown clock
Access to the stage from the auditorium is required during performances
A variety of transport options are possible.
Most simply, a station wagon plus a small covered trailer can be used to transport the touring party (3 persons) plus the set and all properties.
Audience & Marketing Notes
Described by The Advertiser as "a must see show that sets the standard for educational family fringe entertainment", The Alphabet of Awesome Science is the very definition of 'edutainment' – and, as such, a perfect fit for both family and school audiences.
The dynamic performance caters to the curious minds of fellow 'word nerds and science freaks', as well as to anyone simply looking for a fun, escapist trip to the theatre that's full of genuine laughs, spectacular surprises and arresting visuals. The Alphabet of Awesome Science is an alphabetical, scientifical 'variety hour'. Audience members will laugh at each new skit and scenario whilst simultaneously accidentally soaking up a cornucopia of fascinating facts – leaving the theatre with a slightly bigger brain than when they arrived!
As reviewed by Stage Whispers: "This is one of the best children's shows I have seen; not only is it fun, well-produced, exciting and educational, it doesn't talk down to children and keeps everyone from 5 to 105 engaged, learning and laughing."
The Alphabet of Awesome Science debuted to critical acclaim at the 2019 Adelaide Fringe Festival, winning a Weekly Award for "Best Children's Event".

It is an utterly unique theatrical experience – a spectacular character-driven 'science theatre' piece that both figuratively and literally fizzes with fun.

The Alphabet of Awesome Science promotes both English language literacy as well as science literacy, encouraging audiences to engage with beautiful words, as well as captivating scientific phenomena. Links to the Australian Curriculum are available for schools – as are an evolving collection of educational resources.

Professors Lexi Con and Noel Edge are a positive celebration of all things geeky – emboldening audiences to embrace their own individual passions. At the end of each performance, kids are always eager to mob the professors – to share their favourite parts of the show as well as to ask questions and tell their own stories.

A web series is in development, as well as other online activities and resources.

Oh, and did we mention that this show includes liquid nitrogen and fireballs and explosions and rockets and air donuts AND a bed of nails?
5 to 12 year olds and families
Proscenium Arch, Black Box, Thrust (some), Hall (some)