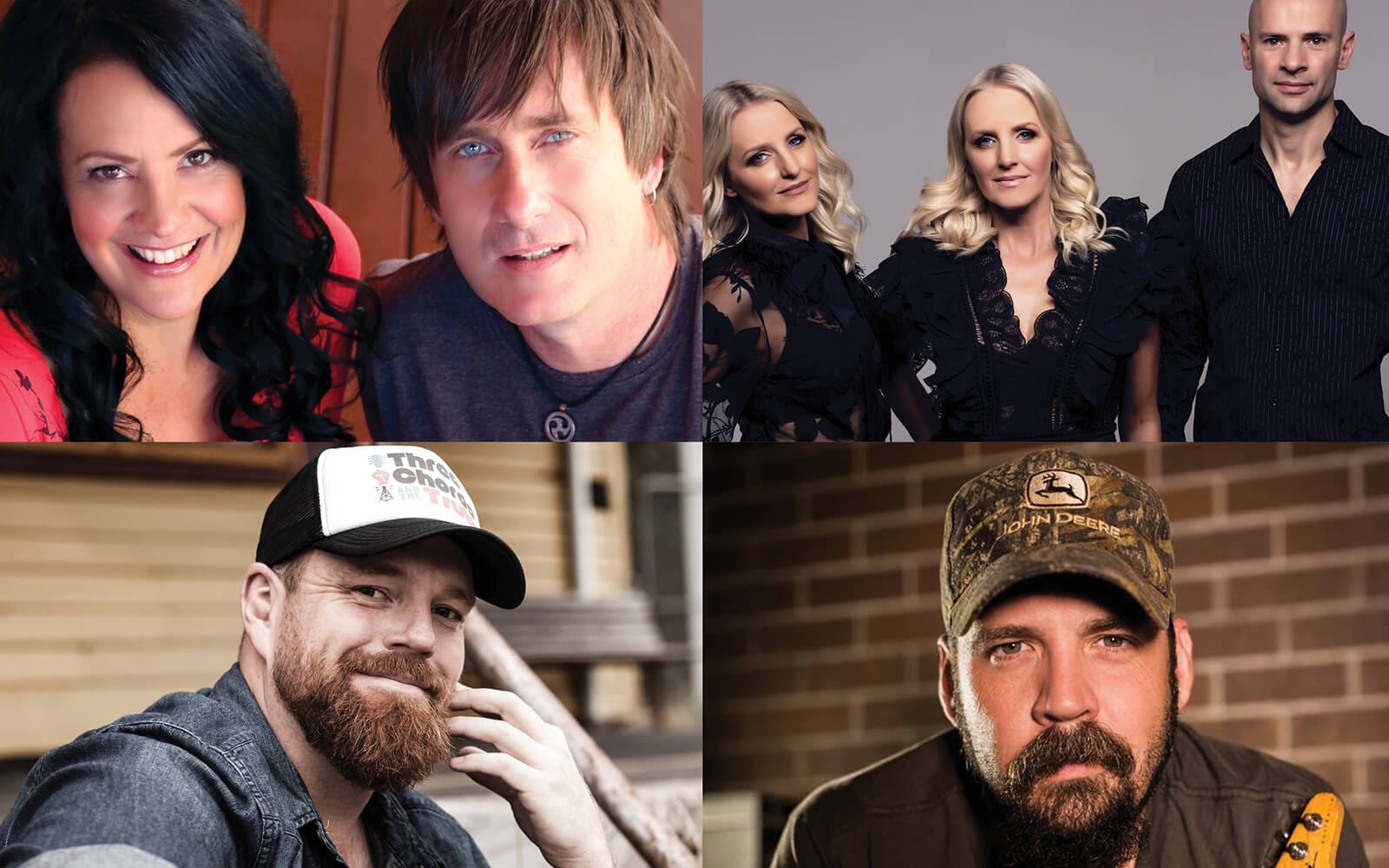 Directed By:
David Carter
An authentic taste of Australia's biggest festival in your own backyard
Put four Multi Award Winners together in one big concert, and you've got a Taste of Tamworth at its best. Golden Guitar Winners – Carter & Carter, Jetty Road and Andrew Swift team up with rising star Anthony Taylor, to give you an authentic taste of Tamworth – still Australia's biggest country music festival.
Each act brings their own unique form of music and personality to the stage and then team up for a fun filled finale. This show is has a respected reputation for providing a high quality taste of Australia's largest festival Tamworth – a taste that keeps people coming back for more. So come along and be part of the Tamworth experience as the artists launch into a string of their National #1 hits and some well known favourites.
Four Multi- Award Winning acts coming together for one big concert only comes along once a year with the Taste Of Tamworth show. Get your tickets now for a taste of Australia's biggest festival, Tamworth, right in your own backyard
It's not too often that a show in a small theatre returns a healthy surplus in the Box Office, achieving commercial and critical success, but thanks to the winning formula you offered us, TASTE OF TAMWORTH did just that. Thank you for a brilliant show that from the time of booking; through to saying goodbye at the bump out, proved to be an absolute pleasure to buy in.
Mark Fawcett, CardiniaCC
We utilise the lighting rigs, audio-visual equipment and operators within venues.
In smaller venues that don't have special lighting etc we run our own lights in a smaller rig formation.
We travel with our own audio system and operator – in some venues we will utilise the front of house rigging but we always use our own foldback, effects, mixer etc.
We have a fairly standard stage setup of drums centre (on riser if available) and bass guitar to stage right slightly back from front line both with foldback wedges and amps. The front line consists of stage left – lead guitarist, stage centre – lead vocalist and instrument, stage right – lead vocalist and instrument – front line has 3 foldback wedges. Front of house varies from venue to venue – we travel with our own system but often utilise it in conjunction with in house systems
We utilise the rear screen for all our audio-visuals in venues that have those facilities – this is usually operated by a local technician in line with a show schedule we provide
We utilise the inhouse lighting rigs and expertise of the venues technicians where these are available.
Where smoke machines/ foggers are available we use these.
We do allow non flash photography but not video
We do not use strobe lighting in the show.
No fly system
No technical warnings
No orchestra pit or piano
To enable this production to tour within the budgets above the performers pitch in to help expediate setups which allow for fast setups and pull downs. We utilise the expertise of the technical staff at venues to enable us to quickly setup and deliver the show.
We usually have between 4 to 6 cars ( all passenger size) and a trailer for the show but this could be optimised for interstate tour shows as we have done the tour before with a single small bus and trailer. Yes the production can travel by plane as we can organise hire of backline, pa and lighting if needed
Audience & Marketing Notes
Taste Of Tamworth is a great show for the whole family. It incorporates the essential elements of Australia's largest festival, Tamworth –
* original songs about Australia, it's people and it's places
* it showcases the diverse variety of musical styles in Australia's Country Music genre
* artists share the stories, humour and heart behind their songs written about life in Australia.
* it is inclusive of all age and social groups with a particular emphasis on providing family friendly concert
* it promotes original and new Australian music
* it encourages local emerging artists through the Emerging Artists opportunity
It is also easy to market because:
* Most people in Australia know about the Tamworth Country Music Festival but not everyone can make the trip to Tamworth
* It engages talent in the local area through it's Emerging Artists performance opportunity
* There is an established, loyal fanbase of the show that often attend multiple shows throughout a tour
* It has been touring now for over a decade – building audiences with venues
* The shows ticket price and buy in cost allows for a venues that promote well to make a sizeable profit
Tamworth is Australia's largest festival and many people are curious to get a taste of it but can't make the trip to Tamworth

All the acts are multi-award winners and the musical performance is of the highest quality

The concert provides 90% to 95% new original Australian music which adds to our identity as a community

The show has a dedicated fanbase that travels to multiple shows throughout the annual tour and a database that ensures shows are always successful.

The Emerging Artist performance spot for local artists at each show enables the venue to engage with it's local community and encourage local artists of all ages - as well as giving the selected ones exposure alongside the performers in the show.

All promotional material is supplied by Crestway Music in the format required by the venue with many options for customisation for individual shows - video, audio and images

The show costs $5500 plus GST and accommodation and at an average ticket price of approx. $40 (some venues charge more) the shows costs are usually met by getting just 175 payers. In an acoustic show where the fee is lower e.g. $3500 plus GST this can be brought down to around 100
With each show we run a Emerging Artist spot where local artists submit their music and are considered for a performance spot within the show in their hometown - this can lead to multiple performers being chosen or the chance to join the artists onstage for a finale song.

We can also come to the local schools, community or private groups in an area that is hosting the show and run a song writing/performance workshop in the months beforehand and incorporate some of the results of that workshop into the show.
All ages, family friendly
Apra Obligations:
90% to %95 of the show are original works by the Australian artists performing