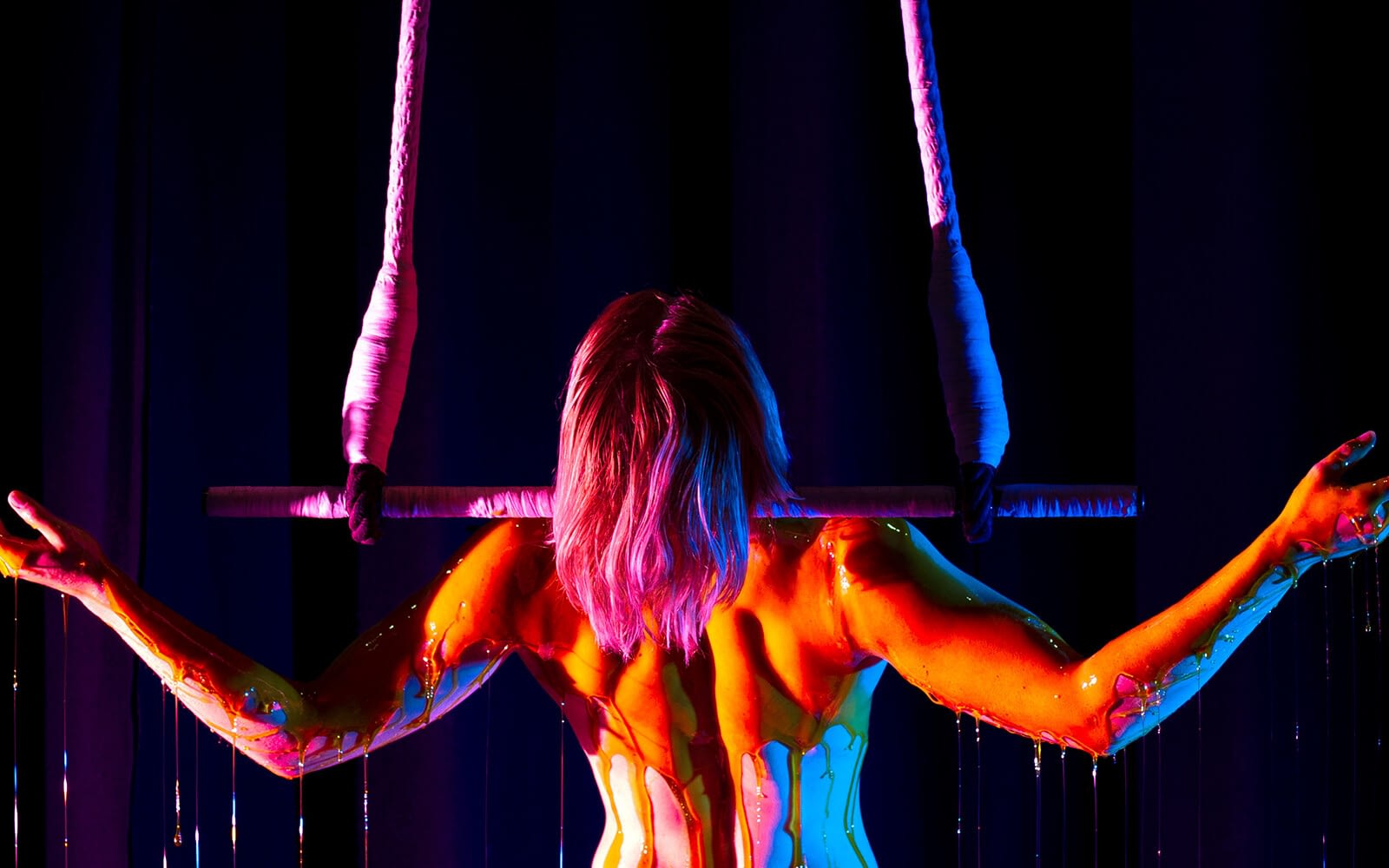 Producer:
One Fell Swoop Circus
Writer:
Charice Rust & Jonathan Morgan
Directed By:
Charice Rust & Jonathan Morgan
A vibrant circus experience; a degustation of sensation.
The experiencing self lives each moment. The remembering self constructs the story afterwards.
Human beings are naturally inclined to value remembering over experiencing. But what would happen if the Experiencing Self were triumphant? In a vibrant celebration of sensation, five circus artists pursue the ecstatic, immediate completeness of experience, through exhilarating and contemporary circus.
In Sensory Decadence One Fell Swoop bring their trademark skill set and style to bear on what Nobel Prize winning economist Daniel Kahneman calls the two selves; the Experiencing Self (that lives each moment) and the Remembering Self (that constructs the story afterwards). Drawing on influences spanning from ASMR to the surrealist world of readymades, Sensory Decadence invites audiences to explore a unique alternative world.
Sensory Decadence was created in-residence at Gasworks Arts Park. The premier seasonwas supported by the City of Port Phillip Cultural Development Fund, the Gasworks Foundation Patrons Fund, the Saunders Circus Grant, and the Friends Of One Fell Swoop (FOOFS).
The show is both sensuous and clean-cut: it oozes with lush fluidity yet every move is executed with clinical precision. One Fell Swoop Circus's Sensory Decadence is an accomplished and invigorating work of circus art. The performers' physically demanding and visually immaculate acrobatic choreography recalls the best of this genre
ArtsHub
https://youtu.be/CrXrdu3wAVw
12 LED profiles
4 Moving head washes
Flexible control position
Playback from QLab and single fixed microphone
Large set and aerial circus rigging. Please see technical specifications and design drawings in the tech folder: https://drive.google.com/open?id=1zvZhTcdYtoj2wykWA2qAD3b0YRPj60E-
1x 3t van
1x people mover (One Fell Swoop own a 12 seater bus)
Set requires road transport
Audience & Marketing Notes
Sensory Decadence's target audience are active and social consumers of culture. Their engagement is not limited to 'high' artforms as they like to be on the cutting edge of cultural production and are constantly on the lookout for new experiences and ideas.
Specifically our main audience segment is professional women aged 35-45. They respond to Sensory Decadence's crisp, modern aesthetic; they are adventurous, attracted by the idea of circus; and love the rich dramatic perspectives we bring to our technique.
The show is appropriate for all ages. Families are attracted to the work as a contemporary experience that children can access. Existing physical communities such as local dance and circus groups are drawn to the strong technical elements of the performance.
Sensory Decadence is a degustation of sensation and experience – beyond the spectacular acrobatics of circus, audiences will be drawn into intimate encounters with skin and muscle. It invites the audience to see the theatre as a restaurant: to sample the richness of each acrobatic morsel.

Exceptional and striking imagery

High level acrobatics from elite trained Australian performers

Everyday objects used in unusual ways – eg acrobatic duet with bread

The action takes place from ground level to 8 metres up in the air

5 star review from ArtsHub

Meet the cast: Our ensemble of 5 is a diverse bunch including a handbalancer from Brisbane, a former street busker from New Zealand, and a performer who has founded her own feminist circus collective. Jon left a degree in mathematics and physics to pursue circus as his career; Charice built the strength for her male-dominated specialty working on her grandmother's sheep farm.
We offer workshops for all ages in circus and acrobatics. The entire ensemble are experienced trainers and hold WWC checks. We can provide some basic equipment, i.e. juggling balls and other props.

We also offer masterclasses in a range of aerial disciplines that could tie into local circus spaces for existing circus students.