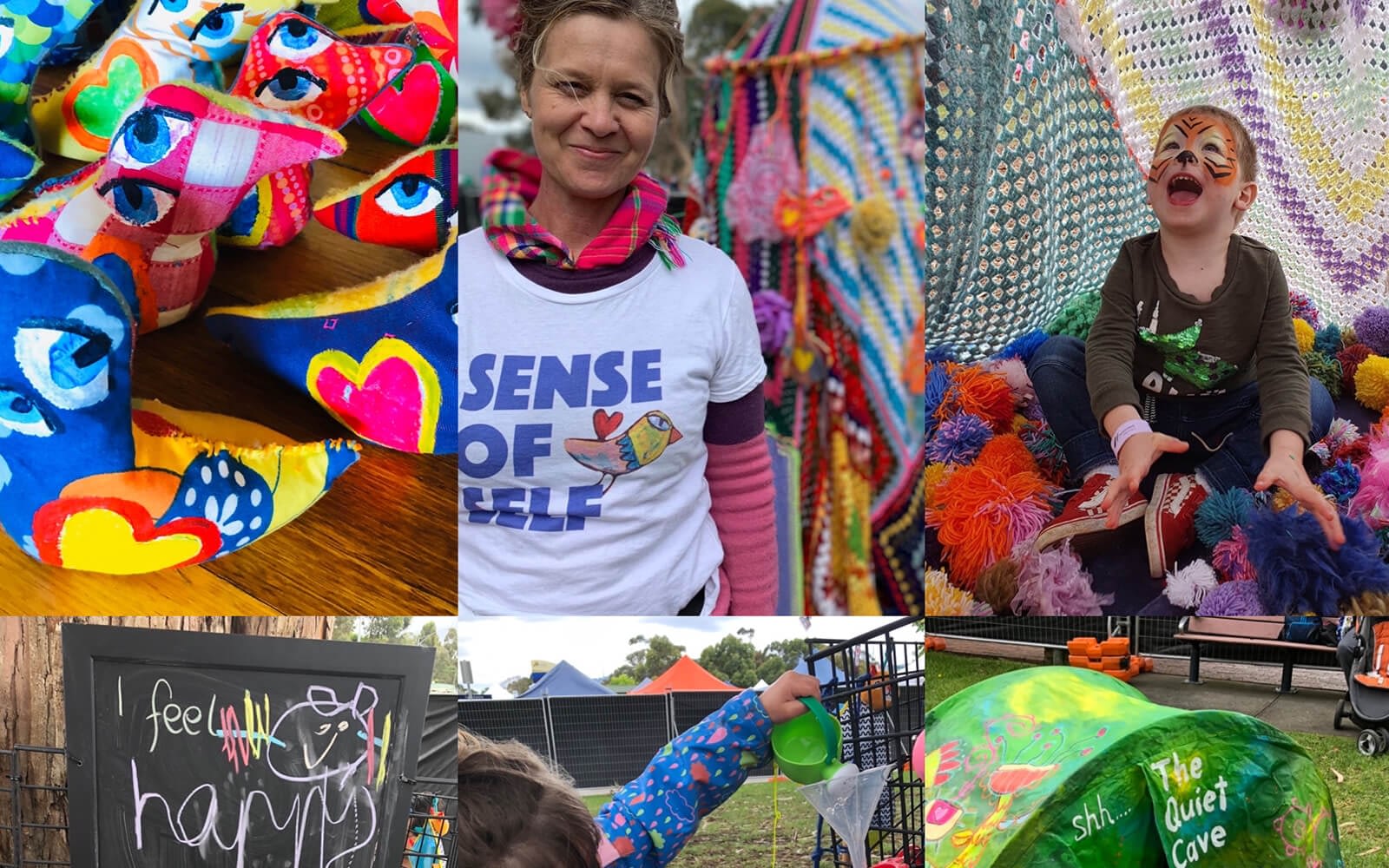 A magical sensory world to soothe and delight
Sense of Self is a beautiful, sensory art installation created as an inclusive space for children and families with Additional needs. Developed in consultation with carers, parents and 'Access Ability Australia', Sense of Self invites families in their own unique way, to explore its hand-crafted, low-tech, sensorial delights designed to soothe, stimulate the brain, and improve sensory processing abilities. Allowing these families respite at large events and Festivals; Sense of Self also successfully soothes and nourishes a far broader audience.
The work invites audiences to explore a magical sensorial world, being held within the provenance of colourful hand-crafted materials including yarn, recycled fabrics, paint and found elements. This work is a dynamically evolving curation, unfolding within the unique space at each event. It is perfect as a chill-out space at a community event OR as a stand-alone Art installation within an Arts centre environment. Additionally, in a longer more participatory format, Sense of Self offers nest-making and other simple craft-based workshops using recycled materials: adding another dimension to the community engagement and installation itself.
Thank you for once again for creating a beautiful, calm and inviting space for Knox Festival. Your contribution to our events has become a real highlight for festival goers, and your creative skills are shining within the festival setting, achieving a sense of quirky fun within a vibe of absolute serenity.
Audience Comment
1 Tonne Van is sufficient to carry the large installation and Yes the elements can travel by plane.
Audience & Marketing Notes
Target Audience: Primarily designed to soothe Children/families with Autism spectrum Disorder/additionial needs at large events. Secondarily this work has evolved to become a beautiful stand alone participatory installation for a broader audience as well, particularly children under 10.
In a world of underlying disconnection and loneliness, I'm passionate about art that connects and elevates the richness and resilience of the human spirit. Sense of Self is a visually pleasing, memorable sensory experience for all the family to enjoy together.

This inclusive Sensory rich space allows people with Autism spectrum disorder/sensory processing disorder and additional needs to explore and feel soothed as they find their unique Sense of Self.

Whether under or over responsive to stimulation the space caters for these needs and allows families to all relax and explore together. A feeling of being held and safe results. This type of respite is few and far between from all accounts.

Other selling points: it is a gentle low-tech space and the provenance of its hand-crafted nature is like a long lovely cuddle with grandma.

Sense of Self is an immersive Art experience and chill zone all in one.
'Sense of Home' is an additional workshop based project suitable for community/school groups that can be held within Sense of Self.

Focusing on human resilience we tap into our own stories, working with recycled materials, to build whimsical hanging Sunbird Nests. Recording and sharing the human stories is a magical addition to this project creating further connection, dialogue and possible healing opportunities.

Pom-pom making and lovebird workshops also available.

A night-time viewing is an exciting engagement of Sense of Self: with black-light torches popcorn and the thrill of adventure.
Children with additional needs