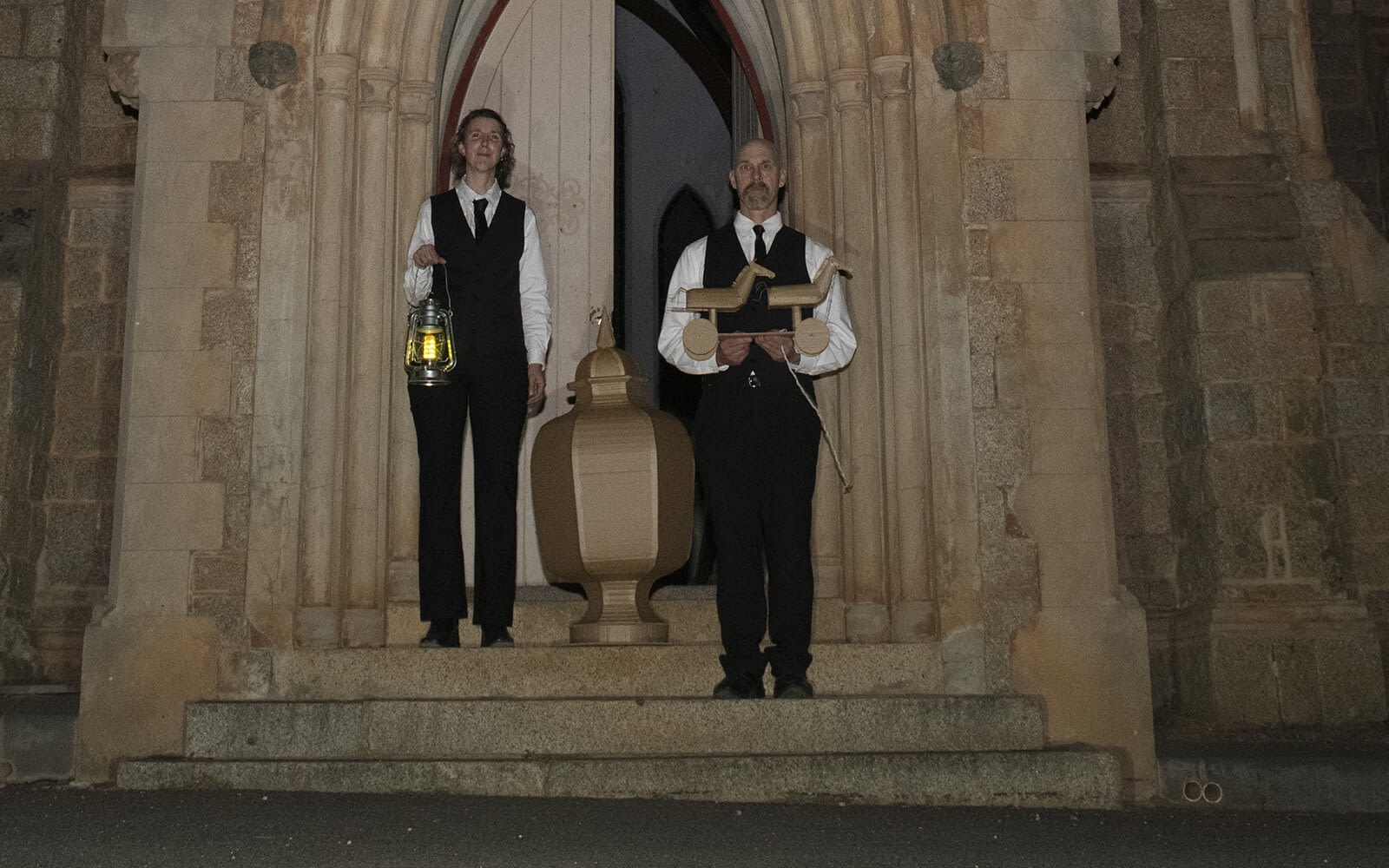 Producer:
Such As They Are
Writer:
Mark Penzak, original music by Rose Turtle Ertler
Using the stories of those buried in the cemetery to remind us what is important to ourselves
Once and For All is an event in two parts. It begins with a gentle guided tour of the town's cemetery where we combine storytelling and reportage with music, joined by people from the local community who contribute their songs and memories. The stories we tell have been found through historical records and personal accounts that have been volunteered through workshops with the community. Part 2 occurs in a nearby indoor space where the event transforms into a theatrical performance that uses music, poetry and sculpture to move us away from the past into the present and onwards to acknowledgement of our own mortality.
The event concludes with the audience and performers enjoying a chat over a cup of tea and scones. We have made two versions of Once And For All, one in Bendigo cemetery and one in Natimuk cemetery. Both are unique though they share some universal stories, theatrical devices and elements. Community involvement was increased in Natimuk, and, being a small town, we included locals speaking at the graves of their relatives and friends.
Loved it. It felt like well rounded research and gave a broad sense of the history here in Natimuk. A great way for young and old to connect with their local history. Theatrically a great mix of performance modes. Was interested from start to finish. It felt really heartfelt and personal.
Audience Member
General stage wash
Specials:
Spot to musician stage in audience
Spot on rostrum, down right
Spot on coffin, centre stage
A disco effect within audience area, preferably mirror ball. Company
can provide.
Mic and DI from the musician stage at rear of audience – prefer speaker to be located nearby. Company can provide
Musician stage: 1200x1200x600 minimum platform on stage right side at
rear audience seating. Company can provide.
Rostrum. Company can provide.
One low rostra for cardboard set and props, minimum 1200 wide 600 deep. Company can provide.
1 tonne van
Can travel by plane
Audience & Marketing Notes
Once And For All is suitable for people with an interest in local history, in novel ways of storytelling, and in participatory experiences. It deals with the topic of death, and is moving in parts, though ultimately uplifting. We include historical as well as recent stories contributed by the community, sourced through historical societies, Trove and personal anecdote gathered during workshops.
In Natimuk we did workshops with the nursing home and the primary school where they made cardboard flowers that were used in the performance so that the audience connected with some of the oldest and youngest people in the community. Audiences enjoy the cemetery tour with its atmosphere and authenticity, and the change of pace and style in the second half where the stories become more universal and gentle audience particpation is involved. Tea and scones afterwards offer opportunities to talk and we have found that the topic and treatment unite strangers and promotes cathartic conversations.
Site specific using the town's cemetery

Uses stories about the local community drawn from history and anecdote

A cathartic and kind experience for those who've experienced a death of someone close or have someone buried in the cemetery.

Artists resident in the town prior to the performances to build relationships and interest

Extensive involvement of the community in constructing and delivering the show

Prop making workshops prior to the performance can include various organisations such as local primary school, general public, old people's home

Novel experience; part cemetery tour, part participatory theatrical experience make it exciting

Opportunity given to confront and discuss death in an open and gentle way

Promotes connection within community through cathartic conversations
Such As They Are are resident in the town and meet the community to gather stories and construct the show.

We use a local as our key connector to put us in touch with people and organisations.

We work with the local historical society.

We find local musicians and singers to participate in the performance.

There is scope for individuals to read or speak.

We include a local dancer or two.

We run workshops to make cardboard props and set used in the show.
It's set in a cemetery and is about death. There's no strong language or imagery and children have attended, but some people find the discussion of death inherently challenging
Adults & accompanied children
Part 1, site specific at cemetery, part 2 in a hall