Margaret Fulton The Musical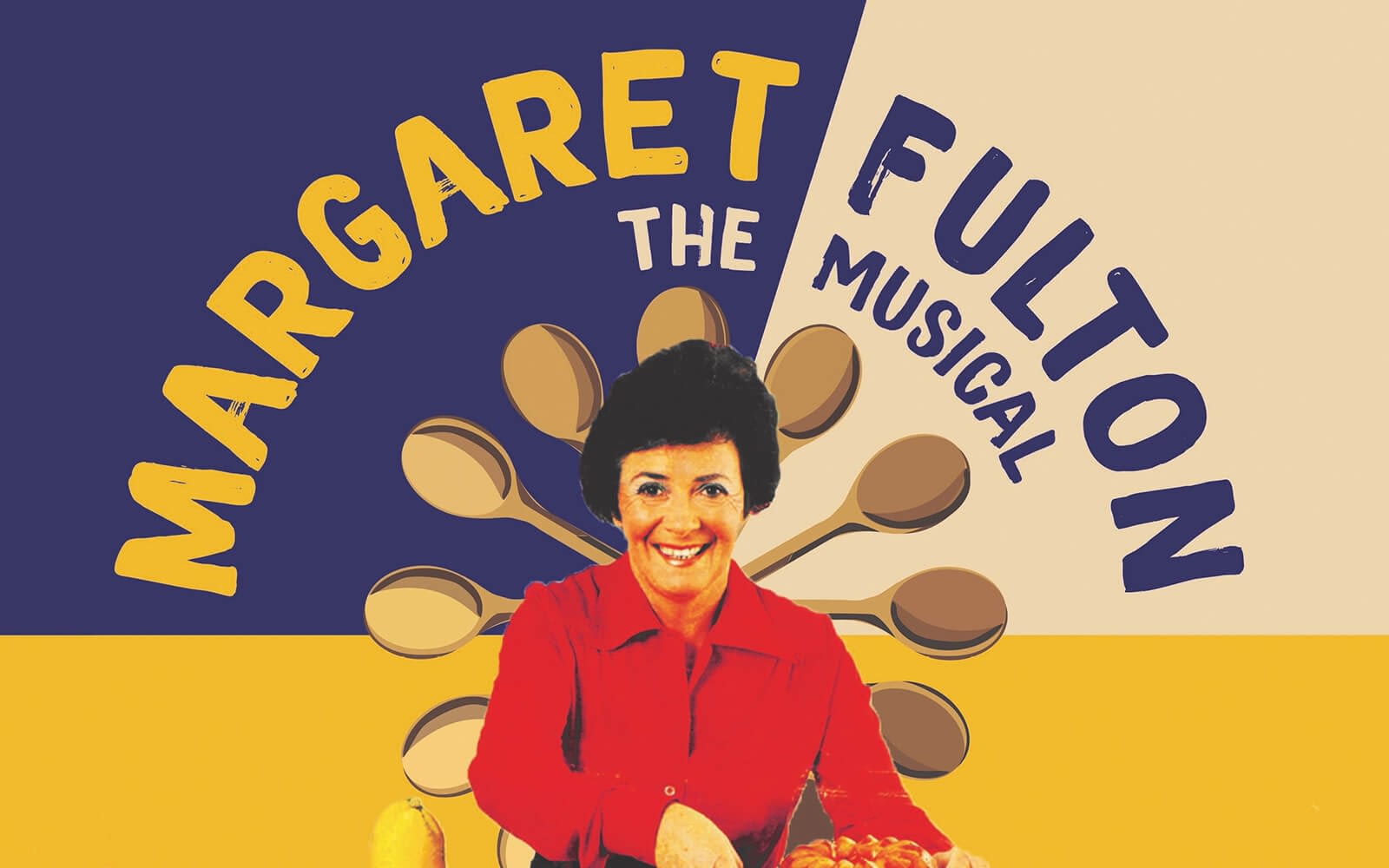 Producer:
Jally Entertainment
Writer:
Book and Lyrics – Doug MacLeod / Music – Yuri Worontschak
Adapted from the autobiography "I Sang for My Supper" by Margaret Fulton
A musical biography of a true Aussie legend based on her bestselling autobiography. Margaret Fulton reigned supreme on our country's cooking scene, awarded an OAM in 1983 and later identified as a National Living Treasure. The Margaret Fulton Cookbook encouraged Australian housewives to experiment with more interesting ingredients, straying from the old tradition of meat and three veg.
This delightful musical romp follows her journey from humble beginnings to super-stardom.
Genuinely funny, heart-warming theatre!
The Age
Colour front wash able to wash the complete stage from FOH bars
Colour stage wash able to wash the complete stage from all Stage bars (Open White, Amber, Red, Blue)
Profile Movers (if available)
LedWash Movers (if available)
The preferred audio system should be a professional 3-4-way design. The audio system should be powered by manufacturer's recommended amplification, processing and standard specifications. The system should be able to present 95dB SPLA at the front of house position. Mix position must be placed where FOH engineer can hear both sides of the PA equally and preferably not under or on any balconies.
We carry our own 6 channels of Sennheiser Wireless Mic kit.
2 sends of fold back
Send1 should be a mono send for actors on stage to hear playback these are NOT to be placed on the front edge of stage.
Send2 should be a single send USOP dedicated to SFX
Playback is via a QLAB Mac system we are touring a Motu audio interface Dante is Preferred when available
Ch1+2 BGM
Ch3+4 QLab Playback FOH
Ch5 QLab Playback Rear send
Ch6 Timecode
Set is on trucks.
Can modify to suit all spaces.
No fly required.
No orchestra pit required.
Venue haze if available.
6 Tonne Pan-tech Truck and 8 Seat People mover
Audience & Marketing Notes
All Australians Anyone with an interest in cooking shows. Opening at Melbourne Arts Centre, 15 – 19 September 2020 as part of Victorian Opera Subscription Season. Producers seats available on request.
Australian Icon. Australian script. Australian music.

Before Margaret Fulton burst into the nation's kitchens in 1969 with her burnt orange crockpots and chunky stoneware serving dishes, encouraging housewives to try their hand at Nasi Goreng and Apricot Chicken, Australian food was bland, boring and British, or overly fussy, fancy and French!

The Margaret Fulton Cookbook, with hundreds of recipes, step-by step instructions, hints, tips and full-colour pictures, was a huge success, and taught a generation of women how to make delicious, economical dishes for family and friends. The era of the dinner party was born! Armed with a fondue set, a pressure cooker and their new confidence, women transformed themselves from family cooks to elegant hostesses, serving Chicken Liver Pâté, Sweet and Sour Pork and Chocolate Self-Saucing Pudding.

Margaret's book sold over 1.5 million copies.
Q & A available after each performance.

Masterclass with the cast - small / medium group of eager participants to spend 1 hour with cast rehearsing a song and then sing live on stage prior to the start of Margaret Fulton The Musical. This will assist participants becoming more community involved and building confidence to perform in front of a live audience

Themed events - Decorating the venues for the 1960's 70's or 80's -inviting the audience to dress up - A 'Best Margaret Fulton cake or meal' competition.

Gain support from the CWA - or another local group for fundraising opportunity.
Any indoor space with a raised stage
Apra Obligations:
Nil - Grand Rights