Inventi Ensemble presents The Planets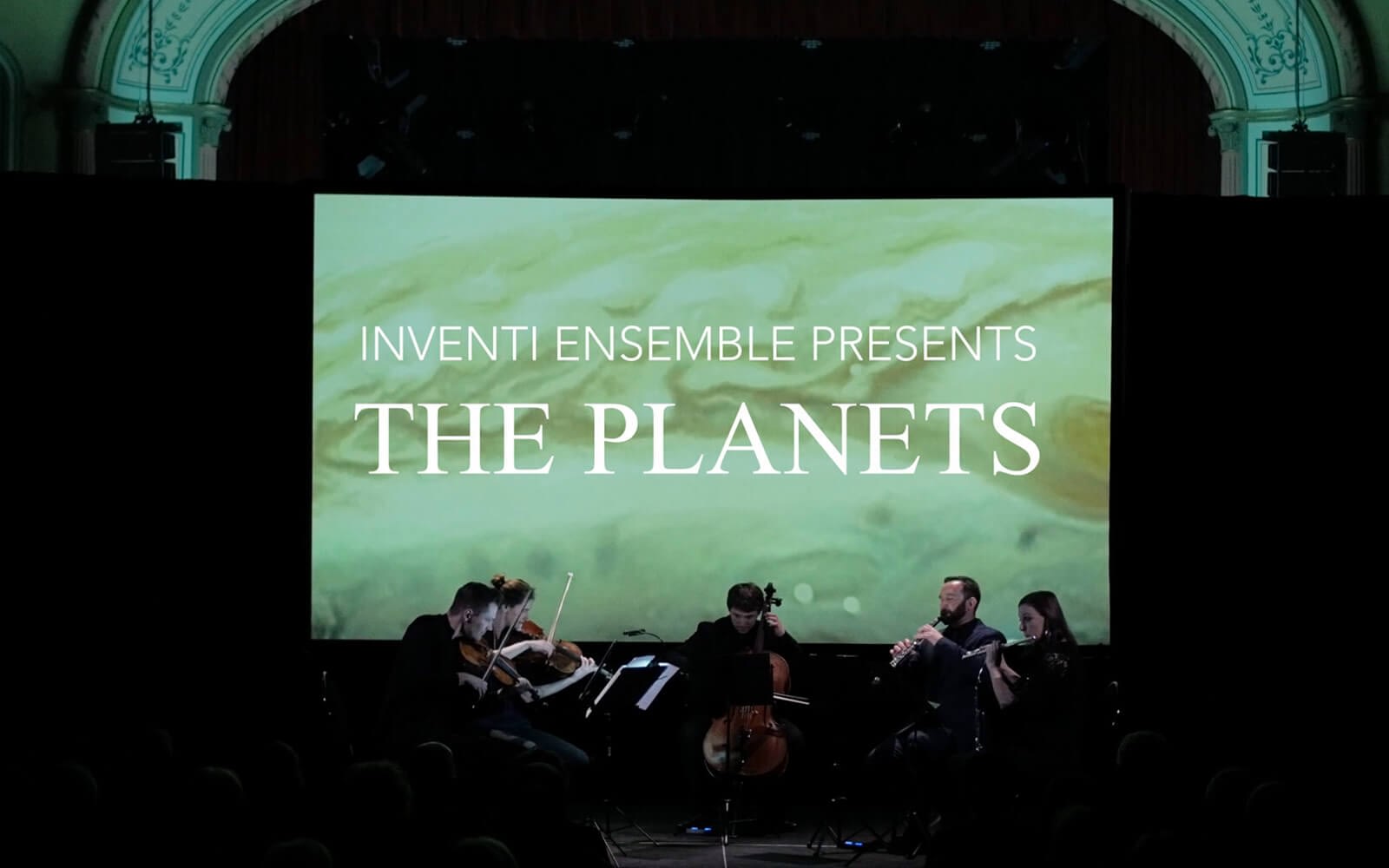 Producer:
Inventi Ensemble
Writer:
Gustav Holst & Johannes Luebbers
Directed By:
Inventi Ensemble
Holst's famous music 'The Planets' performed by quintet with animation projections
Gustav Holst's The Planets is a monumental work in the classical music canon and audiences will have a rare opportunity to hear it like it has never been heard before. Inventi Ensemble are renowned for their virtuosic playing and masterful treatment of large-scale works, and this new arrangement of The Planets is no exception. What was originally conceived for symphonic orchestra will be performed by five musicians on flute, oboe, violin, viola and cello.
This performance also features brand-new works by acclaimed composer, Johannes Luebbers who has a wealth of experience across a wide range of musical genres in addition to classical music such as musical theatre and jazz.
The new works by Luebbers were commissioned to be written with Holst's Planets in mind, the show flows effortlessly between old works and new perfectly partnered animations by Melbourne based artist, James Josephides provides an immersive experience for audiences of all ages and backgrounds. Inventi Ensemble invite you to witness this astounding performance of astronomical proportions!
Details: Gustav Holst (arr. Glynn Davies) and Johannes Luebbers
If you were after an "out of this world" experience, Inventi Ensemble's latest concert at Hawthorn Arts Centre was the place to be. Their invitation to "come on a journey to outer space" with a new arrangement of Holst's The Planets by Glynn Davies resulted in a trip well worth taking.
Heather Leviston, Classic Melbourne 2019
Very minimal lighting. We're able to adapt to the scope of the venue and work with your lighting tech staff members. We do not bring our own lighting tech assistant.
No audio required. Acoustic music will accompany the animation projections.
We required five chairs and five music stands. Musicians are seated in standard quintet, semi-circle formation on stage.
Three cars/one people mover are required to transport musicians for this tour. We are able to tour this production by plane as well.
Audience & Marketing Notes
Inventi present a visually engaging, musically excellent show combining classical music and visual animations aimed at all audience types. Both adults and children will marvel at the music and the visual projections add an extra dimension which ties the whole performance together. Audiences who enjoy the best, most-loved classical music repertoire will love this performance of Holst's famous piece 'The Planets'. This show is also perfect for those who are keen for a fun night out and curious about classical music, with its famous tunes loved by a broad cross section of audiences.
The children's version of the show is called 'Laura the Astronaut Explores the Planets' and includes visual animations and music. It tells a story about Laura the Astronaut who gets lost in outer space and meets various planets who help her to return home to earth. This 40-50 minute show also includes a craft component where children are able to create their own planet to decorate the performance space. Aimed at children ages 5 – 12, with a keen interest in music, science & the solar system.
A visually exciting performance of one of the most famous pieces of classical music - Holst's The Planets, combined with visually engaging animation projections integrated into the performance to provide one seamless experience with the music. This is the perfect event for people of all levels of experience with classical music. The familiarity of Holst's masterworks that are heard throughout today's life, combined with the fresh introduction of new works by Johannes Luebbers and the added visual element means there truly is something for everyone. Running for 60 minutes without interval, it is accessible, balanced and immersive without being overwhelming.
Inventi Ensemble offer a range of community engagement activities that allow everyone to access and engage with classical music. Our popular children's shows (for kids of all ages) incorporating well-loved classical music repertoire often include craft components which allow the kids to more fully engage with the story and musical content. We are able to tailor each show to a specific age range for kids audiences. Other activities we offer for audiences of all types include open rehearsals, Q&A sessions, 'meet the team' following a concert, and side-by-side performance opportunities.
All ages, family friendly
Suitable for all theatre formats, preferably a space with an existing screen.