Game Boys Cinematic Universe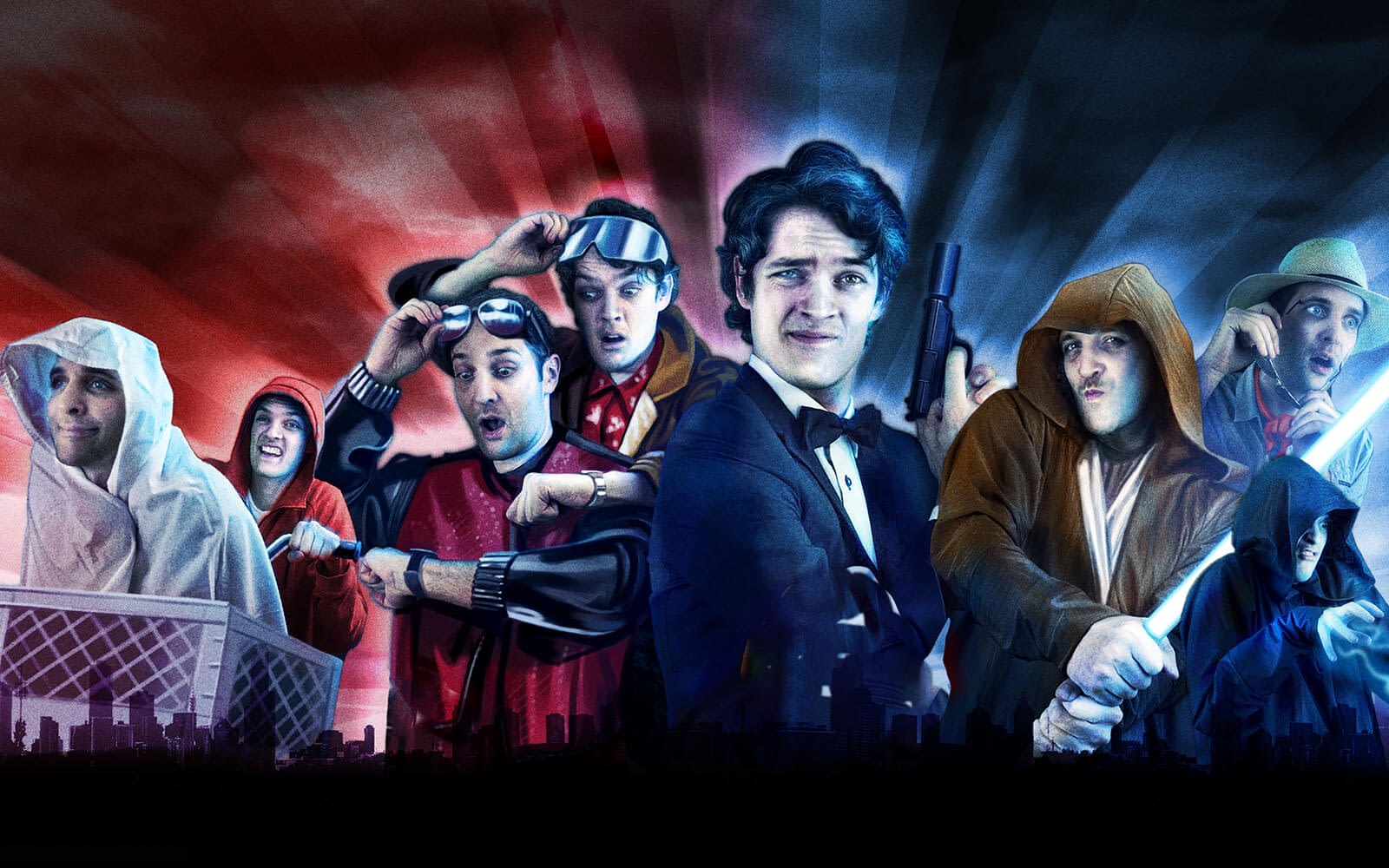 Producer:
Game Boys Comedy
Writer:
Eden & Joshua Porter
A movie studio backlot tour which innovatively blends technology, comedy and audience interaction.
Utilising interactive screen graphics, live video feeds, immersive sound design and literally hundreds of audio/visual cues, GAME BOYS CINEMATIC UNIVERSE seamlessly blends technology with live performance in ways both innovative and surprising.
The show is split up into several tour 'stops' that all look at different aspects of the film industry. One scene is a foley stage where an audience member provides the sound effects to a mimed scene, another where the audience are film executives and have to decide which similarly-themed films made the highest box office. There's also a Blue Heelers Stunt Show, an episode of Entertainment Tonight with a dance routine, and an audience member filled audition. The show culminates in Jurassic Park Adventure: The Ride The Stage Show!
We have been producing comedy together for the past 5 years and have honed our unique style with each successive show. Born from a love of video games, pop-culture and storytelling, our shows are now fully immersive, interactive experiences with GBCU being our most ambitious to date.
Previous Accolades
2017 Nominee Golden Gibbo (Melbourne International Comedy Festival)
2018 Nominee Best Comedy (Melbourne Fringe Fe
a 4D interactive Hollywood experience with all the bells and whistles
What Did She Think
RGB Stage wash left and right.
RGB Backlight left and right.
Warm general stage wash.
Show lighting, sound and AV run from Qlab.
Game Boys to run HDMI / USB and DMX to rear of stage from control position.
Two headset microphones, and two handheld microphones (wired or wireless).
Stereo soundtrack from Macbook Pro / Qlab (company supplied)
Line return back to Macbook Pro from Mixer
Game Boys to provide screen and truss for on-stage display. Venue to provide GPO power at rear of stage. Game Boys to run cables to screen and other devices on truss.
Audience & Marketing Notes
– Broad appeal, not exclusive, the show is written in a way which requires no prior knowledge
– Fans of movies and pop-culture will get more out of the experience
– The most popular audience demographic is generally 25-40 but people outside that age range will also enjoy
– Unique show unlike any other, diverse action that keeps the show interesting and dynamic
– Families will enjoy. Kids enjoy the fun interactive elements while adults will get all the pop-culture references
– Fans of Jurassic Park
2019 Nominee Golden Gibbo/Best Independent Production (Melbourne International Comedy Festival)

2019 Nominee Best Comedy (Melbourne Fringe Festival)

2019 Winner Sound and Technical Excellence (Melbourne Fringe Festival)

2019 Winner Market Ready Award - Regional Arts Victoria (Melbourne Fringe Festival)

It's like going on a Warner Brothers Studios backlot tour where we show you all the magic behind the screen. Nostalgic trip for anyone who's been to a theme park as we've captured the essence perfectly.

Technology used in surprising and interesting ways that, through the use of a screen, transport the audience

The screen acts as a third performer on stage and it's usage expands the space and transports the audience

Be a part of a live recreation of Jurassic Park
School Workshops explaining how some of our tech works - interaction between performers and technology.

Post show Q&A to explain all the behind the scene techniques we use to create the show.

Improvisation Workshop
Black Box, Flat Floor, Hall
Apra Obligations:
Casual Permit $75