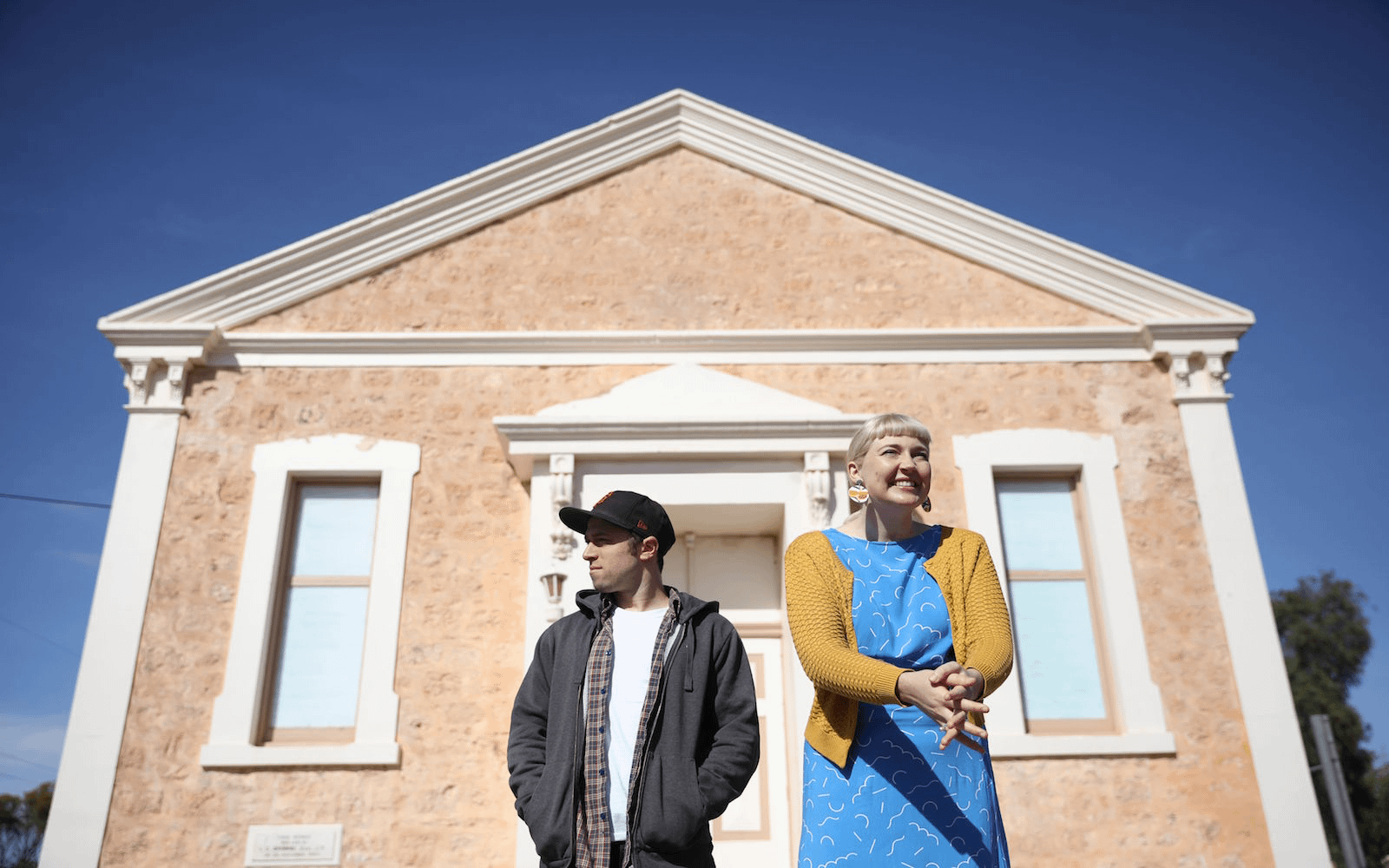 Producer:
Country Arts SA
A heart-warming tale that brings regional voices to the fore and an entire town to life!
A Country Town. A Festival. A local tragedy and a town that doesn't talk. This tale of good days, bad days and everything in between catapults us right into the heart of a little town where everyone knows everyone, and where Ethan is hit by his past as Meg struggles with the present.
Euphoria explores the joys and challenges of country life and shines a light on mental illness with subtlety, compassion and side splitting wit. We are introduced to two key characters, 19 year old Ethan and school teacher Meg, alongside other recognisable characters in this fictional country town. Meg is battling with a mental health illness and she's afraid. Afraid she'll meet someone in the supermarket and they will know. Ethan is sick of living in a town where you can't take a shit without it being reported in the local paper.
As the festival celebrating the town unfolds, Meg and Ethan's worlds collide as the community comes together for an event they'll never forget. Developed over two years of community engagement and informed by conversations between playwright Emily Steel and regional South Australian communities, Euphoria asks us to consider what our responsibility is to each other.
Emily Steel's Euphoria is, quite simply, one of the finest pieces of new stage writing to grace an Adelaide stage for a good many years . . . I'll be first in line for a ticket. Euphoria is a must-see
Advertiser
This is a stellar production on every level. See it. Euphoria will restore your faith in the power of theatre
InDaily
Steel's perfectly paced script is brilliant, laden with intrigue, authenticity, humour, pathos and eccentricities
Limelight - 5 Stars
Included in tech specs
Venue to Provide
2 x 10Amp GPO Circuits
1 x 3 Phase Outlet
DMX Connection into Venue Dimmers
Included in tech specs
Venue to Provide
1 x 10A Mains Power at sound position
Set consists of carpet tiles, vinyl flooring which form a 6-metre diameter circle, wooden walls, and concertina doors on moveable steel frames, 6M Wide x 3M High Red Velvet Curtain (with push up stands and track), trestle table and 4 chairs.
Entire Set and Tech travels in a three-tonne truck. Access to loading bay preferable. Cast to travel by car.
Audience & Marketing Notes
Euphoria will attract a 'curious' audience, people who want to scratch beneath the surface and observe how others live. This work will also have wide appeal to those who live or have lived in a small country town and people with a connection to rural Australia. Rarely are regional voices brought to the fore and celebrated, and this aspect of the work will be of interest to a broad audience. With our thirst for authenticity and truth in our world of fake news and reality TV, Euphoria will engage audiences with an interest in unique stories that reflect real life experiences. Set in a fictional country town, this work recognises that people in country areas face a range of stressors unique to living outside a major city.
Alongside a wide GP audience base in city, metropolitan and regional communities, senior high school students would benefit from experiencing Euphoria and participating in workshops/post show Q&A.
There is scope to target groups and service providers supporting people living with mental illness and their carers. Health professionals and others working in mental health would also benefit from this experience. This would help raise awareness and reduce stigma.
This regional tale takes us to the heart of rural Australia, however, the universal themes of connection, community and belonging ensure the world of the play and its characters have broad appeal.

With incredibly sharp wit, compassion and authenticity, Euphoria shines a light on the joys and challenges of living in a country town. Two actors play key characters Meg and Ethan, alongside a multitude of other recognisable and often comic characters in this fictional town that is brought to life for a town meeting audiences will never forget!

The statistics around mental illness and suicide are alarming and we are bombarded with information, campaigns and new initiatives to help tackle this epidemic, but is it all working? With the perfect balance of humour and compassion, Emily Steel takes an honest look at how we manage mental illness in our communities and what our responsibility is to each other.

Euphoria has been developed over two years through a socially engaged arts practice taking the playwright into regional communities across SA. As a result of this process, themes reflect the authenticity of place and genuine experiences of people living in rural and remote areas.
Following each performance there will be post show Q&A with the cast and supported by a mental health professional. This platform will provide an opportunity for audiences to 'unpick' the work and in doing so; engage in conversation around the themes and issues it raises about mental health in country towns.

A suite of workshops utilising the expertise and knowledge of the cast will be available to schools and community groups. Workshops will be tailored to meet the needs of each group / school.

Study guide available.
Contains course language and adult themes referencing mental illness and suicide.
Prosc Arch or Black Box with minimum stage size of 8m x 7m