Circling Time – Songs & Stories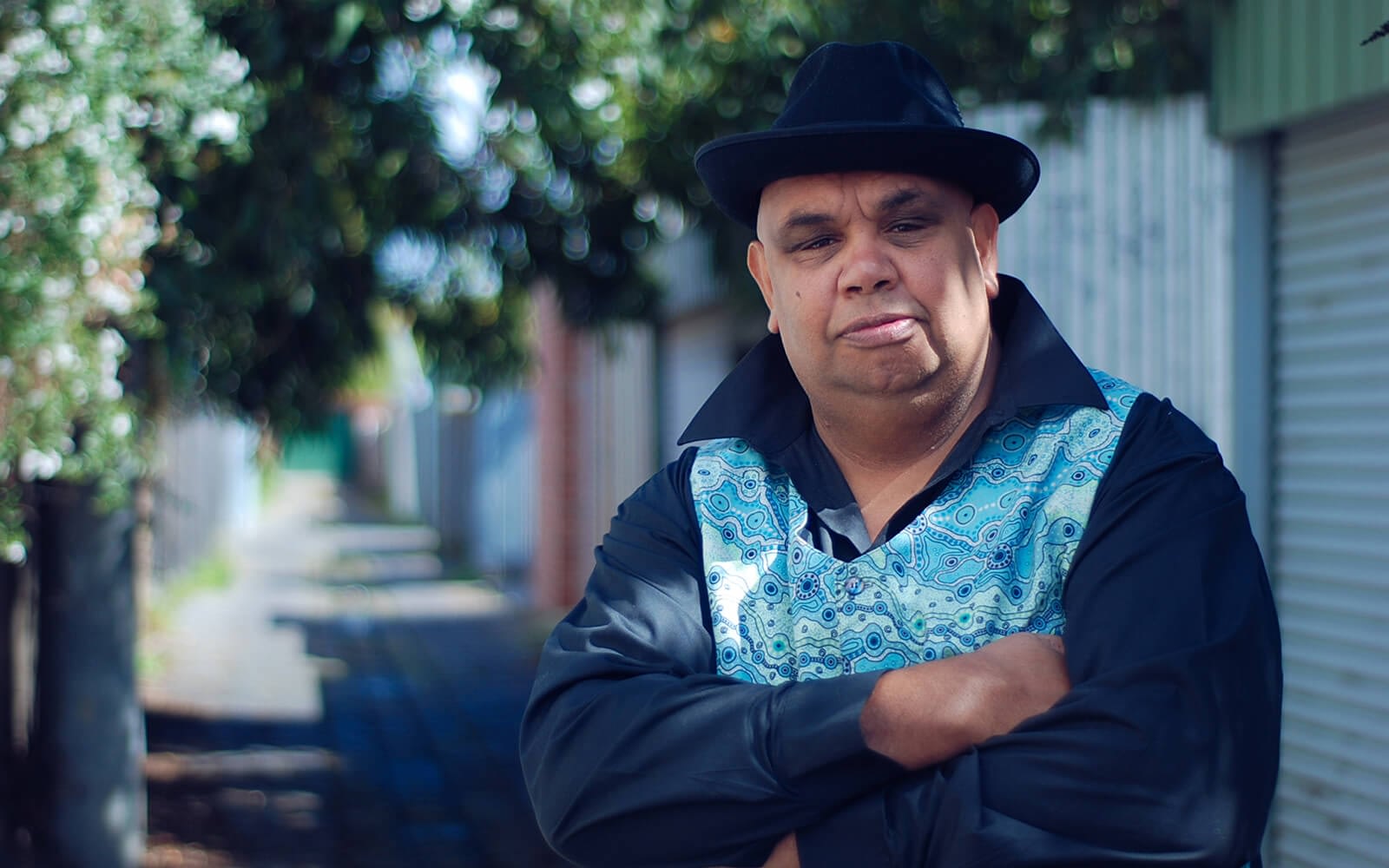 Writer:
Kutcha Edwards & Fiona Dean
Show and album launch, sharing Kutcha's life in song, stories and images.
From the wings of a darkened stage drifts the evocative, slightly haunting sound of clap sticks. The player, a stoically paced figure, slowly emerges singing in his traditional language. This mesmerising introduction heralds a performance by renowned Aboriginal singer/songwriter and proud Mutti Mutti man Kutcha Edwards. The show is arranged in sequences exploring Kutcha's life through the themes of Country, Birth, Youth, Politics, Love, Culture, Healing and Hope. Each theme is bathed in individualised colours and enhanced by stunning projections that amplify the poignancy of Kutcha's original songs and stories. His new album 'Circling Time' features songs chosen to complement each thematic segment of the show culminating in a finale in which the audience is invited to participate, raising their voices in a unified song of hope.  People are enriched by their encounter with Kutcha and left with a broader understanding of Aboriginal culture and how the policies of yesterday have impacted and continue to do so. Without a doubt Kutcha leaves audiences enthralled with his performance, his beautiful voice, charismatic stage presence and with a deeper understanding of the Australia's first people.
An extraordinary insight into Kutcha's life through music and reminiscence. A 3 dimensional experience of very compelling and generous nature giving hope and positive outlook into the future if only we could listen to each other! It was pretty stunning to hear his personal story and hear about his journey. For all that he is a man of compassion and forgiveness—such a beautiful voice!
Audience Feedback
Technical Rating:
C - but flexible around venue capacity
Lighting requirements are achievable for most venues' in house systems and their technicians being a basic lighting plot. Primarily requirements are for a spot on Kutcha plus coloured washes to complement each segment of the show. More detail in tech specs provided. For smaller venues without an in house system, very basic lighting can be provided by the producers.
As per tech specs provided, the audio requirements will be adaptable to most in-house systems. Required are 2 DIs, Vocal Microphones x 2, Boomstands x 3, Amp for Lead Guitarist & for Drummer – Kick, Snare, 2 x Tom & 1 Overhead Mic
The foreground of the stage is set with large, round paper lights in red, yellow and black which are supplied by the production team. Festoon lights also decorate stage (supplied by production). The stage lighting comprises atmospheric washes with spots on the musicians. A fire pit prop is also being developed that will be situated to one side of Kutcha. Kutcha is front centre stage, the musicians x 3 mid stage and the projection screen is ideally at height above that of the musicians, at the back and centre of the stage. There is no fly system required, no technical warnings, no pit, no piano & no smoke or strobe machine.
Tour Manager & Musicians are experienced and will offer all assistance necessary during bump in.
8 Seater People Mover.
Set & Production can travel by plane.
Audience & Marketing Notes
Music Lovers – Launching his 5th album, 'Circling Time' we hear Kutcha's beautiful voice singing original songs backed by a trio of his fellow musicians.
Indigenous Communities – Kutcha is loved and admired by Indigenous communities Australia wide. Their pride in culture is empowered when Kutcha performs.
General Audiences – An opportunity to experience a great Songman, to share his life journey through music and stories and to broaden their understanding of Aboriginal lives and culture.
School Students – Kutcha has spent over 2 decades working with students from Year 4 through to Year 12. His performances are a valuable learning experience that enhances the potential for the betterment of society via a deeper understanding and appreciation of Australia's first people.
Tertiary Students – Kutcha's concerts and his interaction with students expands their knowledge base and ability to relate to the Aboriginal experience with the hope that they take this knowledge with them as they forge their future career paths.
Corporations – Kutcha provides a cultural immersion experience which enhances the education and Reconciliation Action Plan objectives of organisations and the individuals within.
Show and CD launch from Kutcha Edwards who say, "I'm there to tell my truths and my family's and my people's truth of what has transpired on this country." Songs, music, stories, pictures, colour and humour combine to give a deeply moving and personal account of just that.

Kutcha Edwards did not choose to be a musician. Kutcha says the choice to pursue his Songline wasn't his. "I think the music seeks you out," he says

* Born of the Mutti Mutti people on the banks of the Murrumbidgee River, Kutcha sees music as a responsibility he has been given by his ancestors to not only entertain, but to educate. Or as he calls it, to "drop a pebble in an imaginary pond and make that ripple".

Kutcha became one of the Stolen Generations at just 18 months of age, when he and 5 of his 12 siblings were taken from his parents. Healing, culture and unity are recurring themes in Kutcha's Songline, delivered in a style that traverses blues, gospel, rock and country. Yet always at its core is that voice – deep, soulful and timeless, rising and falling with the breaths and dreaming of generations. Music has been the path to healing for Kutcha for more than 25 years.
The show is highly suitable as a matinee session for school groups as well as general audiences. Also, for many years Kutcha has been delivering Cultural Immersion Workshops to a diverse range of entities including the staff of schools & universities, businesses, community organisations, government departments both State & Local and social workers. Kutcha poses some curly questions in a workshop designed to draw from the participants the knowledge of Aboriginal Australia they currently possess and enhance that, with some reality checks, along the way. Through stories, songs & conversation he explores, defines & imparts understanding of what it is to be an Indigenous person in Australia today.
Dean - Kutcha Edwards Management
03 5422 1222 / 0408 799 893
All ages, family friendly
Any theatre would be suitable.
Apra Obligations:
No APRA obligations applicable over and above the standard venue licencing obligations.