'Brass Monkeys' by Circus Trick Tease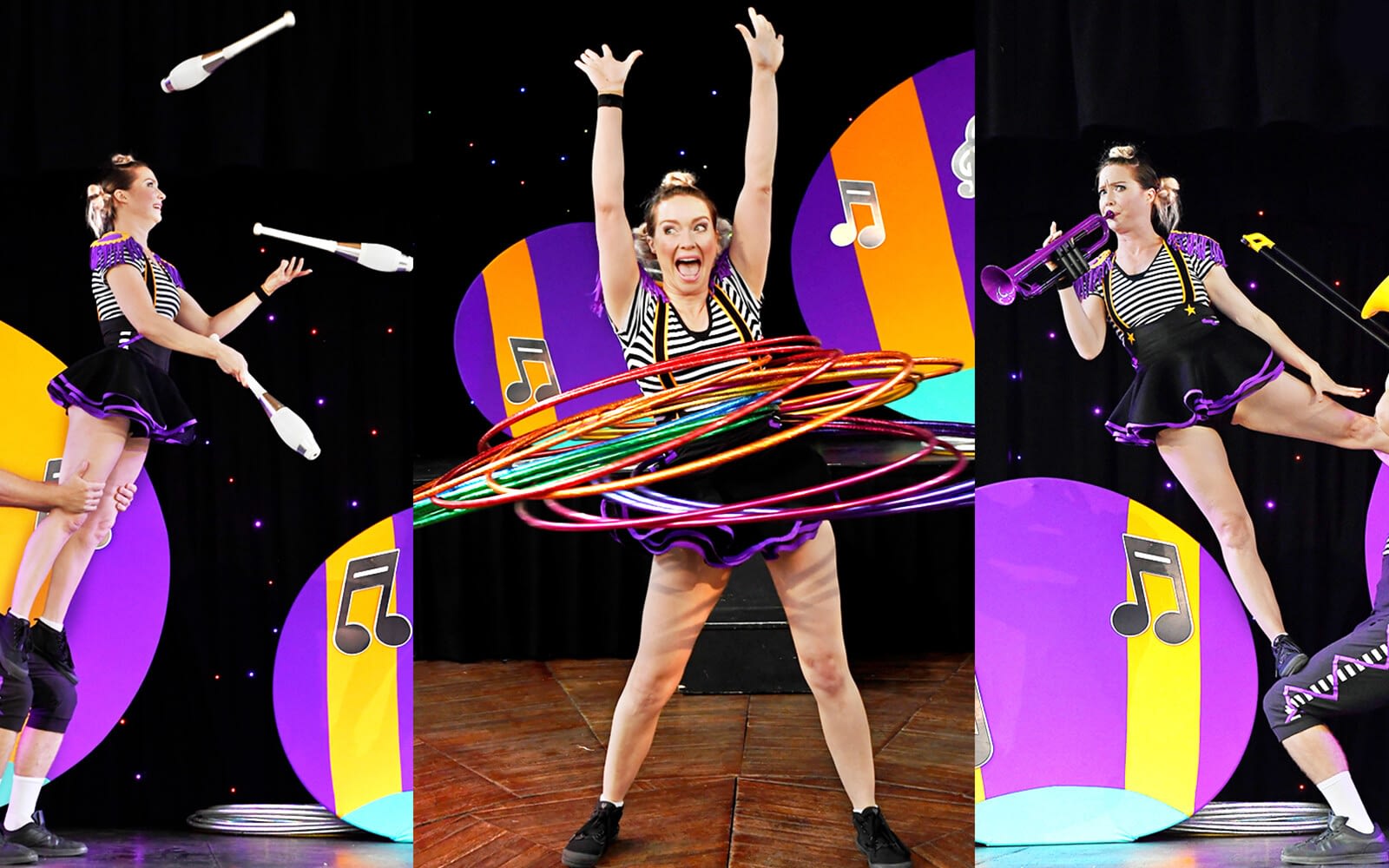 Producer:
Nicholas Clark Management
High flying circus, acrobatics, comedy, live music & big belly laughs designed for the whole family.
The creators of "Children are Stinky" bring you an all new, action-packed, super exciting circus spectacular.
Brass Monkeys celebrates kids who march to the beat of their own drum. Bursting with high calibre acrobatics, a ton of comedy, live music & high flying tricks, this show is perfect for kids & grown ups who like a big brass belly laugh!
Performed by powerhouse duo Kyle Raftery & April Dawson (Lunar Circus, Circus Oz) and directed by Malia Walsh (Circus Trick Tease). This trio of artists are famous for combining circus skills of epic proportion & comedy for all ages. Recommended for ages 3-10 and grown ups who like a laugh.
Launched with their awarded winning self titled show at Melb Fringe, Circus Trick Tease have tour internationally for 10 years and created a diverse range of brilliant works.Their previous work "Children are Stinky" took Edinburgh by storm winning the coveted Children's Choice Award (2016), 5 Star reviews & 3 sellout seasons. They also won Best Children's Show at FRINGE WORLD 2018. Brass Monkeys is delighted to partner with NCM to professionally represent this work. NCM officially endorse the work alongside it's roster of first class and high demand shows.
S Club 7 dialed up to eleven buffoonery that makes this show stand out from the crowd.
Rosheen - The Hook
The company is very flexible with lighting and happy to work with local Technicians who know the venue to create something that works best in your theatre.
There is a specific lighting design which is available upon request.
The following is our minimum requirements:
Warm wash
Cool wash
Follow spot or 5 specials and 2 x flood lights
2 x head sets
1 x mic cord
2 x fold backs
C.D. player
Adequate PA to fill venue
Circus Trick Tease have worked in many challenging spaces on previous regional and national tours and are generally able to adapt to available space. Please advise on any space restrictions in advance and we can prepare accordingly.
The set includes
One flat 2m by 2m Centre stage and props to each side. Chairs that we bring on to set.
1 or 2 Crew required depending on skills base. Lighting and Sound knowledge required
7 seater people mover or Station wagon and yes the production can travel by plane and we can include show freight.
Audience & Marketing Notes
The show is great for family audiences.
High energy and great circus skills with live music with attract two demographics.
Great engagement and involvement of young people in the show.
Encouraging of children to try our new things, be confident and creative.
Rave reviews, sell out shows and incredible audiences feedback.
Great energy and great soundtrack. Show for the whole family.

Great social media resources for the show as well with images, circus skills/tricks

Presenter pack has great colourful images. This includes both promotion and production images.

Promo videos available

Company can also deliver workshops on circus arts

Team are available to do Outside promotion and Season launch work to help promote the work.

Post show photos with the cast members

Script available for Auslan and Audio description purposes.
The team are highly skilled circus performers and can provide skills workshops in all sorts of circus skills. (hula-hoop, balance, juggling etc)

The team do a meet and greet post show with the audience which provides a great opportunity for photos.

Script available for Auslan and Audio description purposes. Team have worked with Auslan interpreters and assisted with Tactile tours.
3-10 yr olds & their grown ups
Suitable for all formats. Main Theatres and Studios
Apra Obligations:
Standard Music Concert License