Balkan Elvis – Aloha From Dubrovnik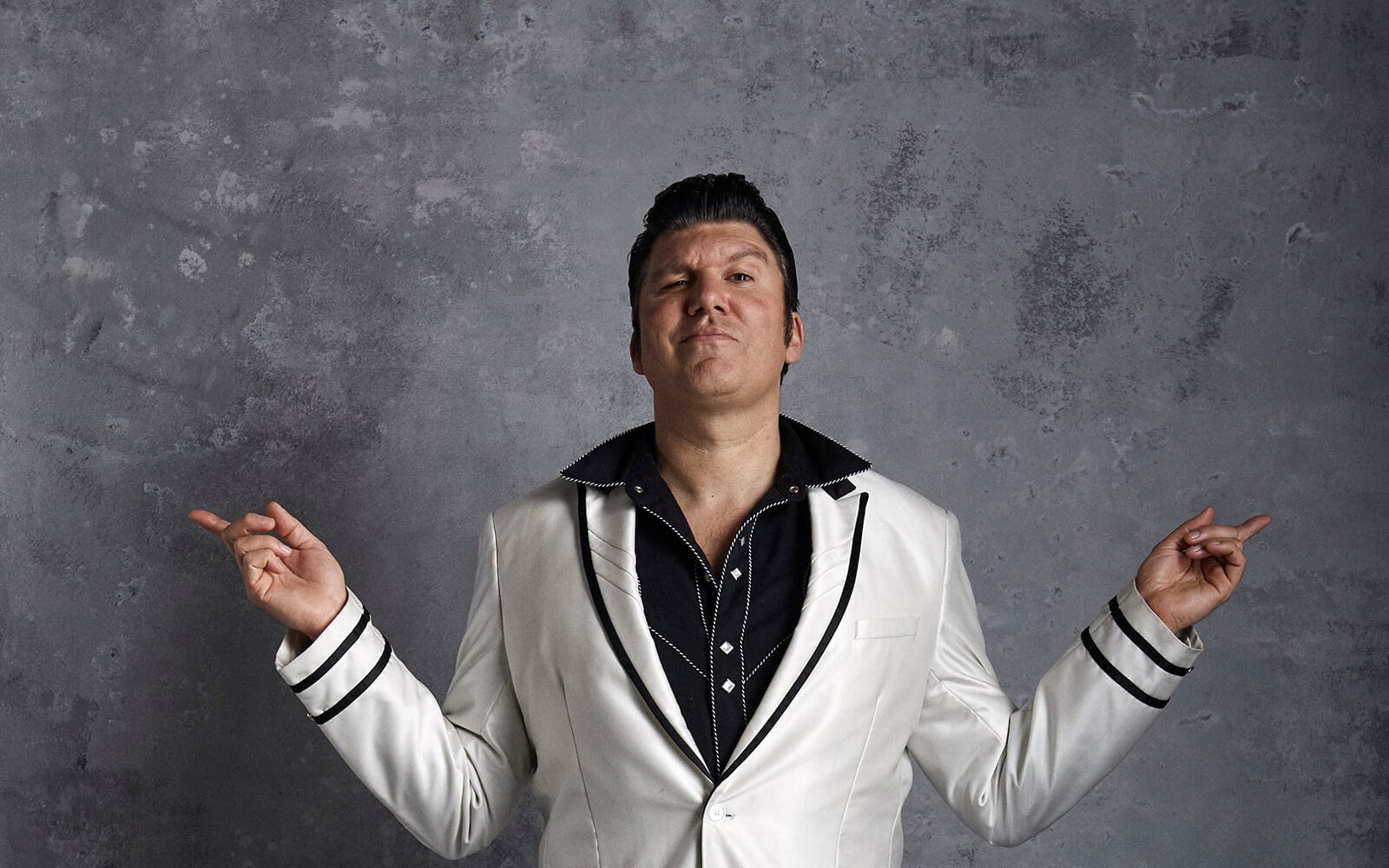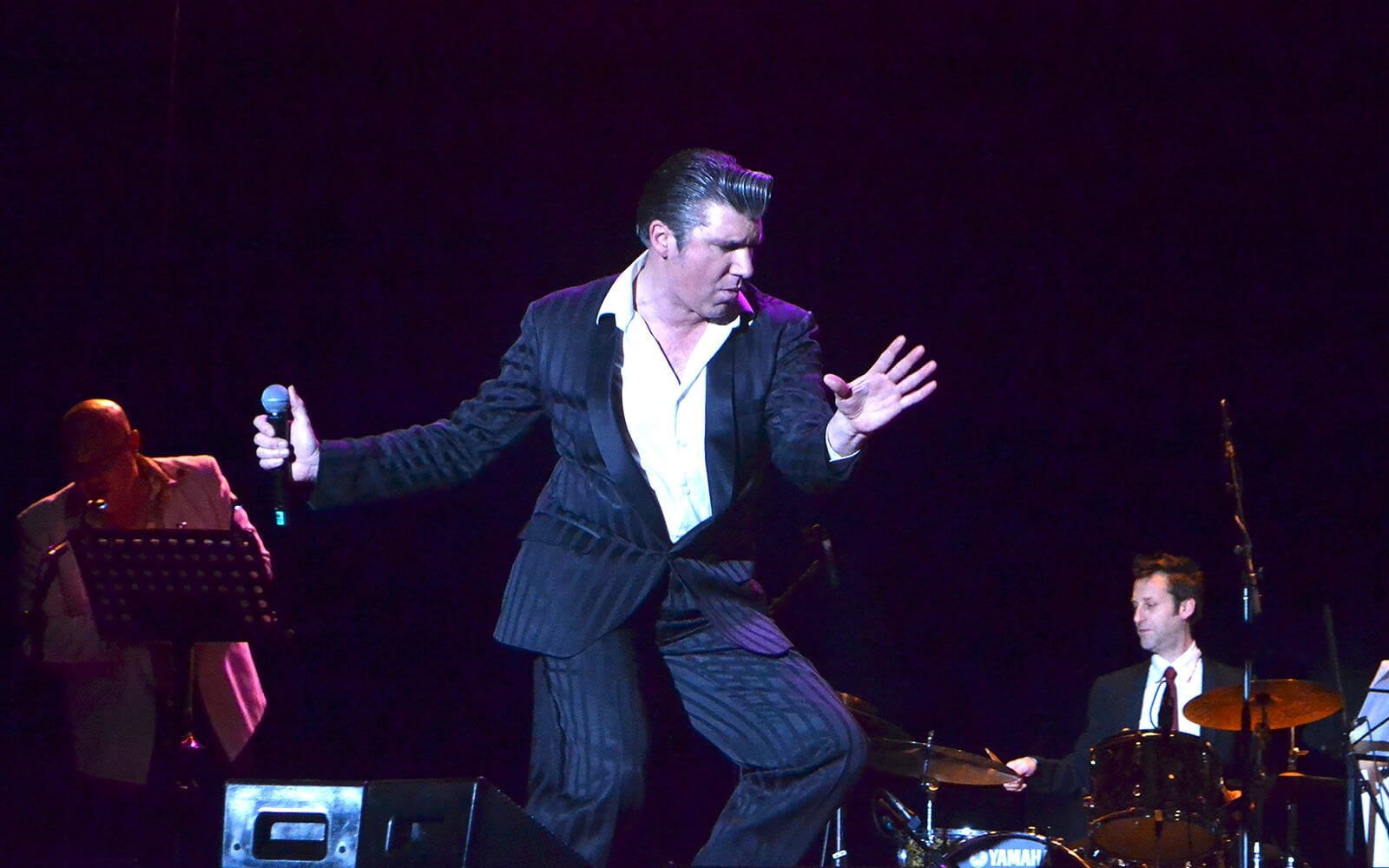 Directed By:
Michael Simic
An intimate and engaging evening of musical storytelling with one of modern cabaret's great talents
The Balkan Elvis prepares for the biggest show of his life, a live telecast concert from the walled city of Dubrovnik during the Balkans War – what could possibly go wrong?
In this brand new show, festival favourite and alternative cabaret legend Mikelangelo gives the King an almighty resurrection, bringing him back to life in a way you've never seen before.
Aloha From Dubrovnik reimagines how Elvis's life would have played out if he had been born in Communist Eastern Europe in the 1970s. Rock'n'roll is illegal in the Eastern Bloc, which makes things difficult; and the Colonel he meets actually is an officer in the army, and sends him off to fight in the Balkans War! There are many trials and tribulations for the Balkan Elvis, but compared with the American Elvis, his story has a happy ending.
Combining original script and songs by Michael Simic, along with reinterpretations of Elvis classics, Aloha From Dubrovnik is a two hander, featuring Mikelangelo on vocals and guitar, and Dave Evans on piano accordion and vocals. The show follows on from the success of the Balkan Elvis production Eastern Bloc Rock, which toured Australia in 2018, including a five-piece band and Balkan dancers.
This hunka hunka Balkan love puts an inspired spin on the King.
Adelaide Now
This is feel good, well-executed fun; musical storytelling at it's tongue in cheek best.
Arts Hub
We are comfortable with standard stage/venue lighting as appropriate, This is a new show, and we will develop a lighting plot with our tech operator. They will liaise with venues pre-tour, and will operate lights on tour with the show. The lighting will be relatively simple, and can be adapted for theatres or halls as required.
2 x vocal microphones
2 x instrument microphone/DI lines (piano accordion)
1 x straight mic stand (Michael vocal)
2 x boom mic stands (Dave vocal and accordion)
1 x DI for acoustic guitar
Tour party is two performers and one audio/lighting operator, who is also the tour manager and tech liaison. Ideal is venue supplies a tech operator to assist with bump in, soundcheck and lighting tech. Ideal during setup to run a few songs in full, and then do a top and tail of the whole show.
Our tech is happy to operate show with your tech, but this is not essential if it is an issue of cost to the venue, the show is a simple set up.
Wagon/Kia Carnival or similar appropriate for ground transport.
Audience & Marketing Notes
The Balkan Elvis has a wide demographic to draw on, from older audiences who experienced Elvis first time around, to middle aged fans and music lovers, to younger audiences who continue to discover the King. It's also a child friendly show, because it's fun. Even those who don't like Elvis, love the production because of its humour and energy. The show is accessible because it feels exciting and new, and is comfortably familiar at the same time. While audiences can sing along, they are also entertained by the idea of an Elvis who was born in Eastern Europe. The reimagined musical arrangements
This is Elvis as you've never seen him before

Quality entertainment for the whole family

Suitable for audiences who have English as a second language

Balkan Elvis is charismatic, funny, sexy and an amazing singer

Great songs and musicianship

A hilarious and dramatic story of adventure and misadventure

Meet the performers after the show and find out how they came up with their ideas
Michael and Dave can offer workshops in songwriting, including music and lyrics, and musical arrangement; and stagecraft, including performance preparation, character development and stage movement. It's preferable if workshops are not on a show day, but it is possible to do them on the same day as the show if there is no travel that day. If workshops are small groups, no equipment is required, just a quiet room. If it's for more than a 15 people, a small PA may be required. This can be negotiated on a case by case basis.
All ages, family friendly
The show can work in a variety of spaces
Apra Obligations:
APRA payable for some musical content