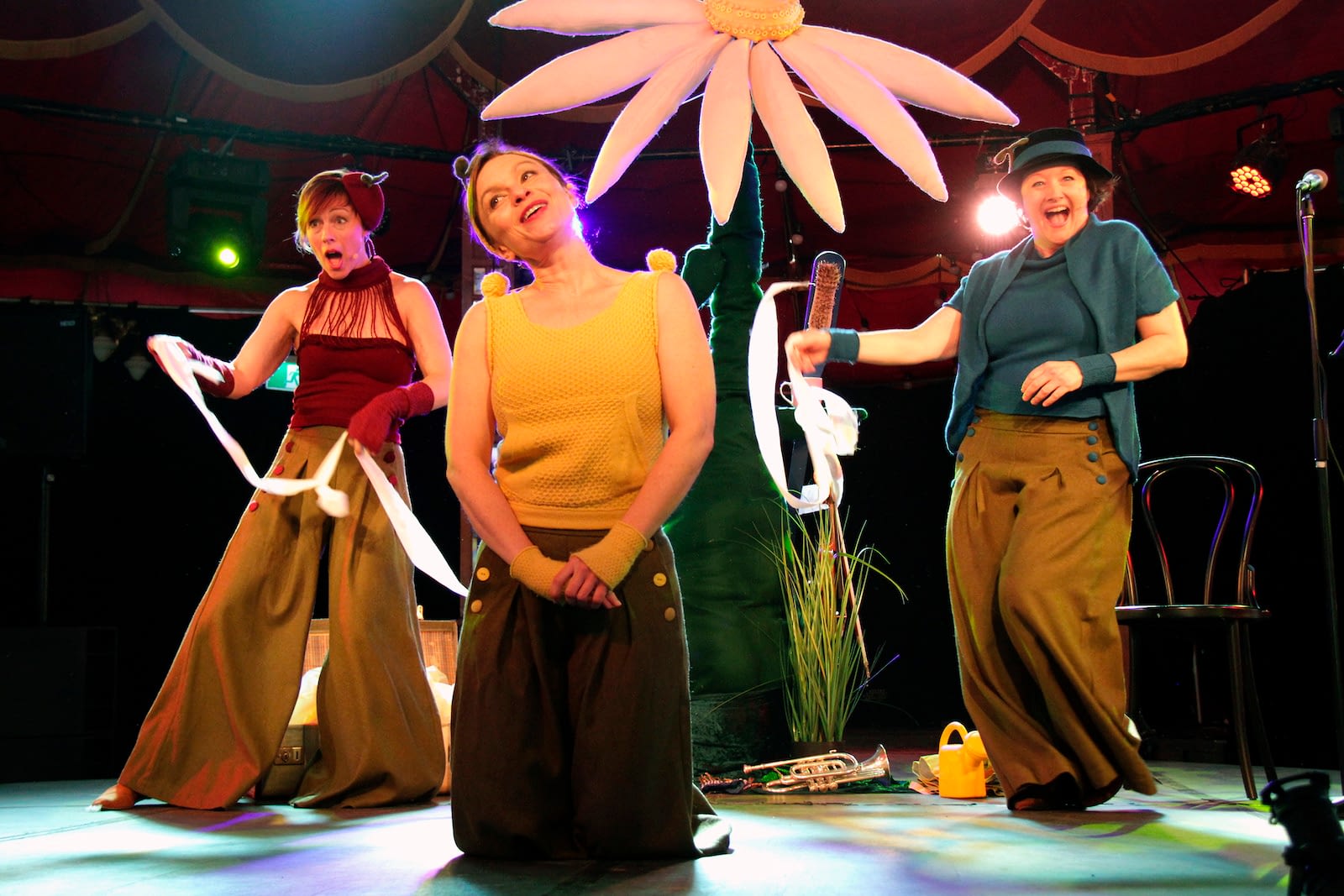 Producer:
Musical Sprouts & Wordsworth Productions
Writer:
Bridget a'Beckett & Julia Davis
A musical that makes children feel seen and heard
The Musical Sprouts are tiny magical creatures who live in a garden and sing to make it grow. With a sprinkling of magic musical dust, children are transported into an adventure of discovery with three friends as they navigate the challenges of growing up.
Stumbling across a giant toothbrush they learn about brushing teeth correctly, discovering a giant sun hat they explore what to wear depending on the weather and a giant roll of loo paper sparks a hilarious conversation about going to the toilet without falling in.
Sharing their secret musical gifts with children through sophisticated musical arrangements and stunning three-part harmonies, this all-female a-cappella ensemble will enchant all the creatures of the garden.
Their songs are musically complex, beautiful, and totally catchy. My two-and-a-half year old was mesmerized. The individual performances and the music are brilliantly entertaining on their own and as a musical parent, I'm thrilled and grateful to see fantastic talent putting on wonderful, high quality concerts for young children to devour.
Deborah Marinaro, Melbourne Observe
The three performers are all extremely good singers and musicians
Elizabeth Woods, ex-ABC Radio National Children's Producer
Mixing desk with minimum of 6 inputs
All other audio requirements and tech operator can be provided by Musical Sprouts
1 flower – 2m high.
1 suitcase.
1 loop station, cable mic and stand.
1 tonne van to seat 4 people. Yes, the set can travel by plane.
Audience & Marketing Notes
A Day In The Life Of You is for children aged 2 – 6 and their grown-ups.
Suitable for touring kindergartens, primary school students (Foundation – Grade 1) and Early Learning Centres.
All-female ensemble
3 part harmony singing
Sophisticated arrangements
Makes children feel seen and heard by seeing the world through their eyes
Written by two mothers in the throes of parenting young children
All-female ensemble that sing sophisticated arrrangements in stunning 3 part harmony

Written from a child's perspective, this show makes little people feel seen and heard

The Musical Sprouts are tiny creatures that live in a garden and discover objects that spark the comical exploration of skills like brushing teeth and going to the toilet without falling in

Themes of independence, self-care, social emotional skills and caring for the environment

The performers are a trio of mothers who have all had successful professional theatre careers whose purpose is to plant a love of music in young minds
Post-show workshop where children learn how to plant and take care of their very own garden and sing to the plants

ELC Educator Workshops: a half-day workshop exploring positive relationships - how to encourage them and understand them through the eyes of the child.
Any Space including outdoors